Dryft Waders vs Simms: A Comparison for Fly Fishing Fans
Are you ready to take your fly fishing game to the next level? Look no further than the ultimate face-off between Dryft Waders and Simms Waders.
Featuring top-notch performance and durability, these two fly fishing titans are ready to compete for your attention.
Dryft uses a heavy-duty nylon fabric with reinforced seams, while Simms utilizes a breathable Gore-Tex material with welded seams. Also, Dryft offers a more rugged and abrasion-resistant design, while Simms focuses on providing maximum mobility and comfort.
Here, we will explain the differences between the two brands further so that you can decide which fishing wader is right for you.
Differences Between Dryft Waders vs Simms Waders for Fly Fishing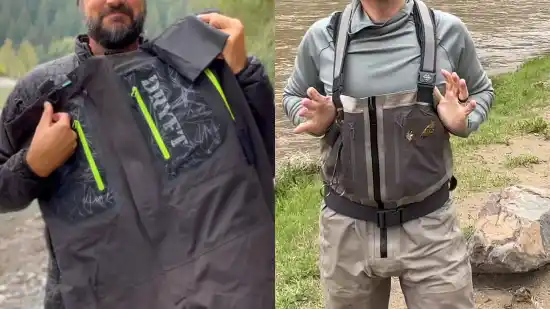 When comparing Dryft waders to Simms waders for fly fishing, there are several key points to consider. Here are the primary differences between the two brands:
Materials and construction
Durability and performance
Waterproofing and breathability
Features and accessories
Color and style
Fit and comfort
Price and value
Target audience
Let's look at each of these differences in more detail.
No 01: Materials and Construction
Dryft prioritizes affordability, which means they use durable nylon fabric materials for their waders. These include reinforced areas where wear and tear are common and seam taping to prevent leaks.
While their materials may not be as advanced as Simms', they still provide high performance and protection for the price.
On the other hand, Simms is known for their high-quality fishing gear, which means they use advanced materials like GORE-TEX. This material offers exceptional waterproofing and breathability, meaning you won't get soaked even standing in the water all day.
They also focus on reducing seams in their construction, which enhances durability and reduces the chance of leaks.
No 02: Durability and Performance
The Simms waders have a reputation for being extremely tough and long-lasting. They are constructed with high-quality materials and reinforced seams, which means they can withstand rugged terrain, harsh weather conditions, and sharp rocks without tearing or leaking.
Many fly fishing enthusiasts attest that they can use their Simms waders for multiple seasons without encountering any problems.
In contrast, the Dryft Primo Waders are also known for their durability. They are made with a puncture-resistant material and feature reinforced knees and shins, which makes them suitable for bushwhacking and hiking to fishing spots.
However, some users say that the seams can come apart after some time, which can be a concern for those looking for a long-lasting pair of waders.
Here's why Simms waders are known for their durability and performance:
Reinforced Areas
Simms waders feature reinforced knees and seat, providing extra protection in high-wear areas. The gravel guards are built with abrasion-resistant materials, preventing tears and snags while wading through rough terrain.
Meticulous Construction
Simms pays attention to detail when constructing their waders, ensuring every seam is sealed to prevent leaks. The high-quality materials used in Simms waders are carefully selected to withstand fly fishing demands, ensuring they can handle various environmental conditions.
No 03: Waterproofing and Breathability
Both Dryft and Simms waders are designed to keep you dry while wading in the water. However, the materials used in Simms waders are more advanced and offer superior waterproofing capabilities.
Simms uses a proprietary Gore-Tex membrane that effectively repels water while still allowing moisture to escape. This means that Simms waders are able to keep you dry even in heavy rain or when submerged in water.
Conversely, Dryft waders offer basic waterproofing capabilities. While they are still able to keep you dry in light rain or when wading in shallow water, they may be less reliable in more extreme conditions.
One thing to note is that both Dryft and Simms waders will eventually wear out and lose their ability to repel water, but this will happen faster with Dryft waders due to their inferior materials.
No 04: Features and Accessories
Dryft waders are known for their essential functionality. They feature pockets, adjustable straps, and built-in gravel guards. Its pockets are designed to keep your valuables safe and dry while you focus on fishing. The adjustable straps ensure a snug fit, and the built-in gravel guards keep gravel out of your boots.
Meanwhile, Simms waders boast specialized features that cater to the specific needs of fly fishers. Multiple pockets with water-resistant zippers allow you to keep everything organized. The adjustable suspender system provides a customizable fit that stays in place.
Additionally, the articulated knees on Simms waders offer ease of movement, allowing you to navigate challenging terrain comfortably.
No 05: Color and Style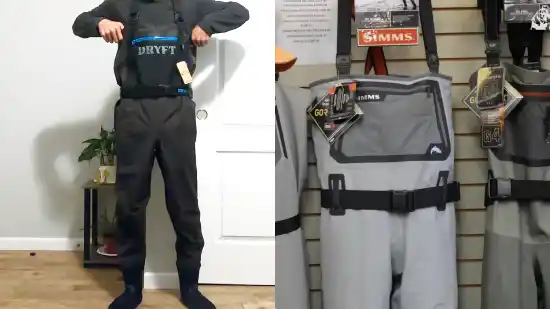 Dryft waders are hard to miss with their flashy appearance. These waders are available in vibrant colors and unique patterns, making them perfect for those who want to stand out on the river. However, the bold colors might not be everyone's cup of tea.
Furthermore, Simms waders are praised for their classic appearance and neutral colors. Simms offers a range of traditional colors, like black, gray, and brown, which are perfect for those who prefer understated style. This is great for fly fishers who value simplicity and a timeless look.
No 06: Fit and Comfort
Regarding fly fishing, comfort, and fit are two essential elements in any angler's overall experience. While both brands provide functionality, there are some differences in fit and comfort.
Dryft waders are designed with functionality in mind. As a result, the fit might be relatively standard. However, this is not to say that Dryft waders are not comfortable.
They are made with durable materials that help to keep the cold and water out. They also have adjustable straps and belts that allow anglers to get the perfect fit for their body type.
Conversely, Simms waders are designed with the ergonomic needs of anglers in mind. The goal is to provide a comfortable fit that allows for a wide range of movements.
Simms waders have articulated knees and a gusseted crotch for added mobility. The shoulder straps are also adjustable, allowing for a perfect fit that doesn't restrict movement or chafe the skin.
Regarding comfort, Simms waders are preeminent with a comfortable wearing experience. This is because of the high-quality materials and construction methods that are used in every pair of Simms waders. These waders feature 4-layer GORE-TEX® Pro Shell fabric, which makes them breathable, waterproof, and durable.
No 07: Price and Value
Simms waders offer great value for their price, making them a worthwhile investment for anglers. While Dryft waders are known to be budget-friendly, Simms waders provide superior durability and performance.
With Simms waders, you can expect top-of-the-line materials and construction, ensuring they will last for many fly fishing seasons.
No 08: Target Audience
Dryft waders are a budget-friendly option ideal for beginner anglers, occasional fishermen, and those just starting to explore the fishing world. Dryft waders are designed to be practical and accessible for people who value affordability without compromising durability and functionality.
As an alternative, Simms waders are tailored to meet the needs of dedicated anglers who spend much time on the water. Simms' target audience includes professional fishermen, enthusiasts, and those prioritizing high-performance gear.
Simms uses advanced technology in their waders that provides improved breathability, comfort, and durability, which is well-suited to anglers who expect the best quality.
Where are Dryft waders made?
The manufacturing facility for Dryft waders and jackets for fishing is located in China. The materials that go into Dryft waders are sourced worldwide, with fabrics coming mainly from South Korea, Taiwan, and Japan.
This global approach to sourcing materials ensures that Dryft waders are made with high-quality materials known for their durability and performance.
The manufacturing process in China follows strict quality control standards to ensure that every pair of Dryft waders meets the highest standards.
The combination of globally sourced materials and meticulous manufacturing processes in China results in Dryft waders that are reliable, comfortable, and built to withstand the rigors of fly fishing.
Comparison Table Between Dryft Waders and Simms Waders
| | | |
| --- | --- | --- |
| Features | Dryft Waders | Simms Waders |
| Materials and Construction | Affordable materials, seam taping, reinforced areas | High-quality materials like GORE-TEX, minimal seams |
| Durability and Performance | Lightweight, suitable for various activities | Exceptional durability, long-lasting performance |
| Waterproofing and Breathability | Basic waterproofing, moderate breathability | Superior waterproofing, excellent breathability |
| Features and Accessories | Basic features, adjustable straps, pockets | Specialized features, water-resistant zippers, etc. |
| Color and Style | Flashy appearance, distinctive look | Neutral colors, classic and understated style |
| Fit and Comfort | Standard fit and comfort | Comfortable fit, ergonomic design |
| Price and Value | Budget-friendly, good value | More expensive but worthwhile investment |
| Target Audience | Newer anglers, occasional fishermen | Dedicated anglers, professionals, enthusiasts |
Where are Simms Waders made?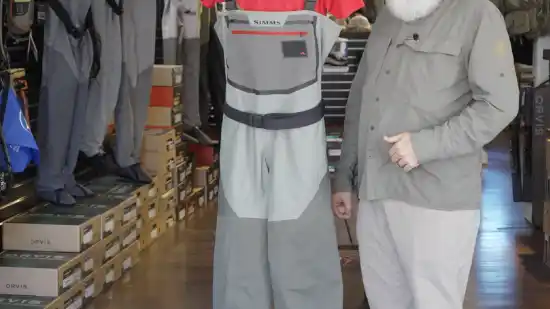 In contrast to Dryft waders, Simms waders are manufactured in the USA. The company's commitment to American manufacturing is evident in its Bozeman, Montana headquarters.
Here are some key details about Simms waders:
Simms is the sole fishing wader manufacturer in the country, meaning that all their waders are made domestically.
Their Bozeman facility is not just a manufacturing site but also a research and development center, allowing them to innovate and improve their products continuously.
Simms waders are crafted using high-quality materials and state-of-the-art technology, ensuring durability and performance on the water.
The company's American-made goods come with a satisfaction guarantee, providing peace of mind to anglers who choose Simms waders.
When you choose Simms waders, you get a top-notch product and support American manufacturing and the local economy.
Dryft or Simms: Which Wader Will Sharpen Your Fly Fishing Skills?
When choosing between Dryft waders and Simms waders for fly fishing, both brands offer unique strengths and cater to different types of anglers.
If you're a budget-conscious beginner or an occasional angler seeking dependable waders without breaking the bank, Dryft provides a practical option that balances affordability with performance.
In contrast, for those who demand the pinnacle of quality, durability, and comfort during their extensive fishing endeavors, Simms Waders stands as a symbol of American craftsmanship, offering cutting-edge technology and meticulous attention to detail.
Whether you're drawn to Dryft's eye-catching designs or Simms' timeless functionality, the choice ultimately hinges on your priorities and aspirations as a fly fishing enthusiast.
So, as you stand on the threshold of enhancing your fly fishing journey, remember that the right waders aren't just about crossing waters, they're about crossing the thresholds of possibility tailored to your unique angling pursuit.