Key Takeaways:
New York offers a diverse range of fly fishing locations, including rivers, creeks, and streams.
The best time to fly fish in New York varies with the season, with spring being prime for trout, summer for dry fly fishing, fall for salmon and steelhead, and winter for catch-and-release areas.
Fly anglers in New York can target various fish species, including brook, brown, and rainbow trout, salmon, steelhead, bass, northern pike, muskies, and more.
Fly fishing regulations in New York are essential to follow, including fishing license requirements, leader configurations, and specific regulations for baitfish and natural baits.
Always check for updated New York State Department of Environmental Conservation regulations, as rules may change over time.
List of the 22 Best Places to Fly Fish in New York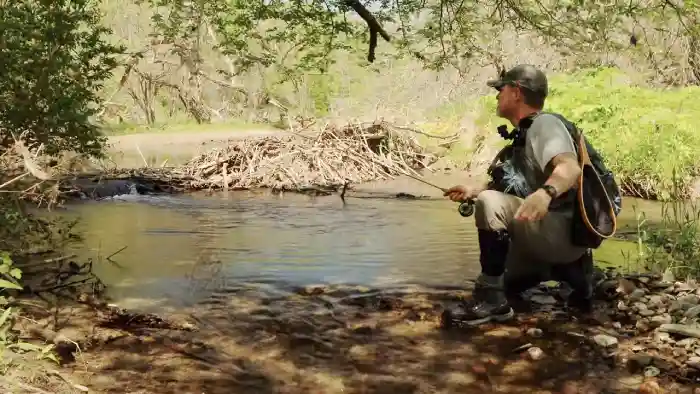 The following are 22 of the best fly fishing locations in New York.
Salmon River
Delaware River
Beaverkill River
Esopus Creek
Neversink River
Ausable River
Saranac River
Oak Orchard Creek
Wiscoy Creek
Willowemoc Creek
Ten Mile Creek
Chittenango Creek
Cattaraugus Creek
Chateauguay River
Fall Creek
Naples Creek
Nine Mile Creek
Owego Creek
Schroon River
St. Regis River
Genesee River
West Canada Creek
Let's discuss the spots and what you expect with the location in detail.
1. Salmon River
Located in northern New York, flowing into Lake Ontario near Pulaski, headwaters in the Tug Hill region.
Famous for steelhead and salmon fishing, King Salmon run from late August to late October, followed by Coho Salmon. Steelhead and brown trout are present in the water from October to May.
Designated fly fi/shing areas include the "Lower Fly Zone" and "Upper Fly Zone," providing access to the best fishing spots along the river.
2. Delaware River
Runs through both New York and Pennsylvania, notable in the Catskill region.
Considered the best trout stream in the Eastern United States. Consists of three sections: West Branch, East Branch, and Main Stem, with the West Branch being the most accessible and renowned for trout fishing.
Provides ample opportunities for anglers to use a variety of fly choices like BWOs, Trico's, and March Brown's.
3. Beaverkill River
Located in New York, a tributary of the East Branch Delaware River, approximately 44 miles long.
Known for its historical significance in the development of dry fly fishing, holding brown and brook trout.
Offers a unique fishing experience, with the upper 25 miles producing technical fishing while the river widens downstream.
4. Esopus Creek
Located in Southeastern New York, serving as drinking water for New York City, a tributary of the Hudson River.
The upper part above Ashokan Reservoir offers natural flow and good nymph fishing.
Provides additional fishable area below the Ashokan due to increased water flow.
5. Neversink River
Flows through the Catskill region of New York, a tributary of the Delaware River.
Stocked with 5,000 brown trout annually, offering tailwater and freestone fishing, staying cool throughout the year.
Provides the opportunity for sight fishing, with dry flies like Quill Gordon and Hendrickson's working best.
6. Ausable River
Three branches are located in the Adirondack Mountains in New York, emptying into Lake Champlain.
West Branch is the most famous and holds large trophy trout, ideal for dry fly fishing during hatches.
Offers breathtaking natural beauty and great fishing opportunities on all three branches.
7. Saranac River
In Clinton County, New York, the Saranac River empties into Lake Champlain.
The upper section has rainbows and browns, while the lower section offers landlocked salmon and steelhead fishing.
Provides anglers the opportunity for diverse fishing experiences along the river's length.
8. Oak Orchard Creek
Flows through Western New York, a tributary of Lake Ontario in Orleans County, New York.
Holds brown, Coho, and Chinook Salmon and steelhead; heavily stocked area, attracting large numbers of trout and salmon.
Best fishing is around the Waterport Dam, with opportunities for anglers to catch trophy-sized fish.
9. Wiscoy Creek
Wild brown trout stream in Western New York, approximately 15 miles long.
Accessible with about 13 miles of public access, providing great opportunities for trout fishing using traditional setups and small nymphs or dry flies.
Gives the opportunity for challenging fishing experiences in serene surroundings.
10. Willowemoc Creek
Covers about 27 miles of prime fishing territory in the Catskills, a tributary of Beaver Kill.
Good spot near Roscoe where it meets the Beaverkill, great for brown, rainbow, and brook trout.
Offers diverse fishing opportunities in beautiful surroundings for anglers of all skill levels.
11. Ten Mile Creek
Located in Albany County, Ten Mile Creek is a 10-mile tributary of Catskill Creek.
This location offers a secluded and quiet setting for fly fishing, with no stocking and abundant brown and rainbow trout. It is suitable for nymphs and dry flies in sizes 16-22.
You will have a rewarding fishing experience with beautiful scenery surrounding you.
12. Chittenango Creek
Chittenango Creek runs from Nelson Swamp to Oneida Lake in Central New York.
This location holds various types of fish, including brown, brook, bass, and walleye. You can experience different fishing styles in different sections of the creek.
You can use fly fishing techniques to catch different fish species, making this an enriching experience.
13. Cattaraugus Creek
Cattaraugus Creek is a 68-mile-long stream that runs through Western New York, offering excellent fishing for brown trout, rainbow trout, and steelhead. The mouth of Cattaraugus Creek is located near Sunset Bay on Lake Erie.
This location is best for catching brown, rainbow, and steelhead trout. Recommended fly patterns include Glo Bug, Nuke Egg, and Kaufman Stone-Black.
During the fall, anglers from several regions come to fish the steelhead run in this creek.
14. Chateauguay River
The Chateauguay River begins at Upper Chateauguay Lake in Clinton County, New York.
You can use the Elk Wing Caddis, Royal Wolf, and Flashback Hare's Ear fly patterns to catch trout at this location.
The Chateauguay River offers a variety of trout fishing experiences.
15. Fall Creek
Fall Creek is a river in Tompkins County, New York, flowing into Cayuga Lake by Ithaca.
You can use Glo Bug, Kaufman Stone-Black, and Muddy Buddy-Black fly patterns to catch diverse fish species at this fishing location.
As a Fly fisher, you will find plenty of opportunities at Fall Creek.
16. Naples Creek
It empties into Canandaigua Lake in Yates County after flowing through southern Ontario County.
Naples Creek is famous for its excellent fishing experiences during the spring season.
Anglers can enjoy the tranquil atmosphere as they cast their lines and immerse themselves in the natural beauty of the creek's surroundings.
17. Nine Mile Creek
Nine Mile Creek is located in Onondaga County and begins as the outflow of Otisco Lake, flowing for approximately 22 miles before flowing into Onondaga Lake.
This location provides a range of fishing experiences, and you can use Parachute Mahogany Duns, Comparadun PMD, and Hare's Ear-Natural fly patterns to catch trout.
Nine Mile Creek has different sections where you can have unique fishing experiences.
18. Owego Creek
Owego Creek's West Branch runs along the border between Tioga and Tompkins counties. It flows for approximately 47 miles to its confluence with Owego Creek, which then flows into the Susquehanna River.
Owego Creek's West Branch offers anglers a serene and scenic escape, surrounded by lush landscapes and the soothing sounds of flowing water.
This location offers beautiful natural surroundings for trout fishing.
19. Schroon River
The Schroon River is a tributary of the Hudson River in the southern Adirondack Mountains of New York.
Besides that, this place provides good fly fishing opportunities, and you can use Trico Dun, RS2-Olive, and Adams fly patterns to catch trout.
The Schroon River has diverse fishing opportunities in multiple sections of the river.
20. St. Regis River
The St. Regis River is an 86-mile-long river located in Northern New York.
At this spot, you can catch different fish species with Muddy Buddy-Olive, Humpy Royal-12, and RS2-Gray fly patterns.
You can experience fly fishing for various fish species in St. Regis River.
21. Genesee River
The Genesee River flows through the Twin Tiers of Pennsylvania and New York in the United States and is a popular spot for anglers.
For a successful fishing experience, try using Parachute Mahogany Duns, Royal Wolf, and Slump Buster with Cone-Black fly patterns.
Not just popular for its fish, Genesee River offers a range of fishing experiences to its visitors, including access to diverse fish species.
22. West Canada Creek
West Canada Creek is a 76-mile-long river located in upstate New York, USA, and is well-known for fly fishing.
Muddler Minnow, Parachute Adams Indicator, and Flash Back-Beadhead Gold are the recommended fly patterns for fishing in West Canada Creek.
West Canada Creek offers an excellent opportunity for trout fishing in a scenic and pristine environment that attracts anglers nationwide.
When is the ideal time for fly fishing in New York?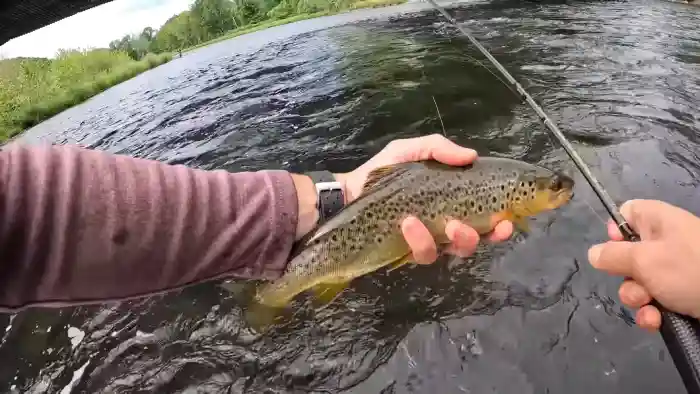 Fly fishing in New York is best done during the following times:
Spring (April to May): Trout fishing is at its prime time with numerous hatches like Quill Gordons, Slate Drakes, and Hendricksons in the Delaware River, Beaverkill River, and Neversink River.
Summer (June to August): Dry fly fishing opportunities with hatches like Green Drakes and Caddis flies in Ausable River, Saranac River, and Willowemoc Creek.
Fall (September to November): Prime time for salmon and steelhead fishing in Salmon River and Oak Orchard Creek, with Chittenango Creek offering diverse fishing experiences.
Winter (December to March): A unique and peaceful fishing experience in designated catch-and-release areas with artificial lures only, such as Salmon River (Upper Fly Zone), Delaware River (Special Regulation Areas), and Neversink River (Upper Sections).
Which fish species can be caught in New York through fly fishing?
In New York, you can experience the thrill of fly fishing and catch diverse fish species. With your fly rod, you can hook into prized trout, including brook, brown, and rainbow trout, all abundant in the state's pristine waters.
Also, you can test your skills against various salmon species, such as Atlantic, Chinook, Coho, and Pink salmon. Steelhead, renowned for its acrobatics and fighting spirit, also awaits your well-placed fly.
The bass enthusiast in you will be delighted to pursue both smallmouth and largemouth bass, while the northern pike and muskies offer an exciting challenge.
In New York's lakes and ponds, you can target panfish species and even try to land a walleye or two. It's also possible to catch landlocked salmon and catfish.
What are the rules and regulations for fly fishing in New York?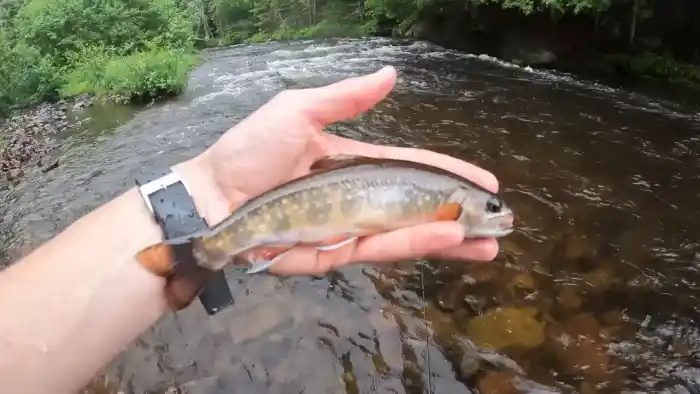 Fly fishing regulations in New York are regulated and enforced by the New York State Department of Environmental Conservation (DEC). Here are some regulations for fishing:
If you are 16 or older, you need a fishing license to fish in New York. The state offers licenses for residents and non-residents with various durations.
When fly fishing in Lake Ontario Salmon River tributaries between Aug. 15 and Oct. 31, you need to use a legal leader configuration. Ensure that any added weight remains within 4 feet of the hook and doesn't hang below it. Also, remember to use single hooks with a gap of 5/8 inch or less.
Be aware that using weight below the fly is prohibited in certain Great Lakes and Tributaries areas. Additionally, there is a fishing closure at Beaverdam Brook in Altmar.
Familiarize yourself with general regulations, which define angling methods, permit the use of artificial lures or bait, and require non-offset circle hooks in certain cases.
If you plan to take baitfish, you may use dip nets, but remember to follow specific baitfish regulations.
You can use nets for angling assistance. In some areas, there are restrictions on net sizes when taking suckers and smelt.
When transporting fish caught in New York, you have certain limits. Salable fish can be transported in any number, while non-salable fish can be transported for up to two days' legal take without a permit or if they are frozen and processed.
Remember that some fish species are salable, but there are exceptions and additional regulations for selling certain fish. Contact a DEC Regional Office for more information.
Specific restrictions exist on collecting and using natural baits such as salamanders, snakes, and aquatic insects. Additionally, the transport of rusty crayfish to certain waterbodies is prohibited.
Always check baitfish regulations, as some waters do not allow the use of baitfish. Specific baitfish may only be used in designated waters and their tributaries.
Remember that the regulations may change, so always check the guidelines published by the Department of Environmental Conservation.