Key Takeaways:
Pennsylvania offers diverse fly fishing locations, from spring creeks like Penns Creek and Spruce Creek to Lake Erie and its tributaries, providing opportunities for various fish species.
Trout, including brown, rainbow, and brook trout, are the primary targets for fly anglers in Pennsylvania, with opportunities for catching steelhead and smallmouth bass.
The best times for fly fishing in Pennsylvania vary depending on the location and target species. Spring and fall are generally productive, while some waters offer year-round fishing.
Fly anglers should be familiar with specific regulations for each location, including licensing, catch and release rules, and using artificial lures and flies in designated areas.
Many areas in Pennsylvania offer public access, but some sections may pass through private property, so respecting landowners' rights and obtaining permissions are essential.
Fly Fishing in Pennsylvania – Top 17 Destinations For Anglers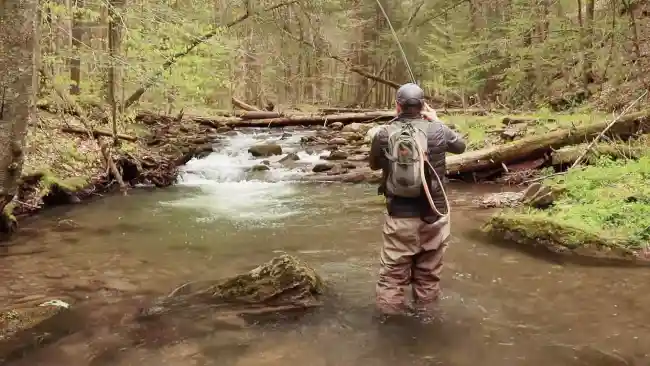 Pennsylvania is known for its thriving fly fishing and natural beauty. If you're looking for the best places to fly fish in Pennsylvania, these 17 spots will surely deliver a great fishing experience.
Penns Creek
Lake Erie
Spruce Creek
The Allegheny River
Yellow Breeches Creek
Elk Creek
Big Fishing Creek
Tulpehocken Creek
Little Lehigh Creek
Kettle Creek
Little Juniata River
LeTort Spring Run
Falling Springs Branch Creek
Ridley Creek
The Susquehanna River
Slate Run Creek
Big Springs Creek
Let's discuss this in more detail:
1. Penns Creek
Located in North-Central Pennsylvania, USA, flowing through Bush and Penn's Valley
Considered one of the country's best spring creek trout fishing streams, Penns Creek is famous for its abundant wild and stocked trout, including the Green Drake hatch.
The aquatic insect population here is diverse, which makes fishing here exciting. You can catch some of the largest trout you will ever see if you take on the trophy waters around Coburn.
2. Lake Erie
Located in Southern Shore in Pennsylvania, United States
Incredible fishery with diverse species, including brown and rainbow trout, steelhead, and smallmouth bass. Anglers from all over the country come here because of the various fishing styles.
Those seeking the biggest smallmouth bass in their lifetime should head to the southern shore of Lake Erie. The scenic beauty of the lake's surroundings is just a bonus.
3. Spruce Creek
Situated in the heart of south-central Pennsylvania
A limestone spring creek with crystal clear water for wild brown, rainbow, and brook trout. The fish here are wary and challenging to catch, making fly fishing incredibly rewarding.
Famous for its spectacular BWO, Cinnamon Caddis, and Green Drake hatches that occur throughout the fly fishing season. The natural setting here is breathtakingly beautiful, making Spruce Creek an angler's paradise.
4. The Allegheny River
The Allegheny National Forest is located in Pennsylvania, United States of America.
A productive tailwater fishery with large brown trout. You can fish in this river anytime, so you'll enjoy fishing here.
Keep an eye on the water levels from the Kinzua Dam for the best fly fishing experience. The river's surrounding natural beauty is worth a visit, even if you're not fishing.
5. Yellow Breeches Creek
This thirty-mile-long creek begins near Lees Crossroads & terminates in the Susquehanna River.
You can expect large trout to be regularly stocked, making it the perfect spot for fly fishing enthusiasts.
This creek has good fishing, even during the colder months. However, it's best to focus on cooler areas when it gets warmer.
6. Elk Creek
Located in Girard Township, northern Pennsylvania, Elk Creek enters Lake Erie.
The largest steelhead fishery in Pennsylvania, excellent for steelhead fishing.
Anglers can catch steelhead in the fall and spring. Also, there are numerous access points along the creek.
7. Big Fishing Creek
This stream flows from its headwaters near Rte. 80 in the highlands east of Tylersville to its mouth on Bald Eagle Creek near Lock Haven.
You can catch wild and stocked trout in Class A waters, making it another great spot for fly fishing in Pennsylvania.
Want to fish year-round? Big Fishing Creek is good for fishing throughout the year. Scuds and sowbugs are popular choices for bait.
8. Tulpehocken Creek
39.5-mile-long tributary of the Schuylkill River is located in southeastern Pennsylvania in the United States.
This creek is home to some large brown trout, making it a popular fly fishing location. During the American Canal, it was used as a tailwater fishery.
Although fishing is good year-round, the water levels can fluctuate, so keep an eye on that. And don't forget to try your luck with brown and rainbow trout.
9. Little Lehigh Creek
Specially designated fly fishing-only waters stretching approximately 24.0 miles in the Lehigh Valley region of Eastern Pennsylvania.
This location has some of the finest fly fishing waters for brown trout in the state. The wild and stocked fish in the region make it a great place to fly fish throughout the year.
With access points available between the T-508 bridge and the T-510 bridge, this location offers a significant portion of clear, clean water to test and hone your fly fishing skills.
10. Kettle Creek
Situated in Western Clinton County, Pennsylvania. It flows through a narrow, steep valley with towering cliffs on either side, making for a unique fly fishing experience.
A small, productive stream that offers excellent dry fly fishing opportunities due to its wild trout population. The creek is heavily forested and offers several miles of uninterrupted fishing.
Its rugged beauty is awe-inspiring, and several public access points and a paved bike path run alongside the creek.
11. Little Juniata River
A 32.1-mile-long tributary to the Juniata River in Pennsylvania. In the Logan Valley, it flows northeast at Brush Mountain's foot.
Renowned for its outstanding fly fishing opportunities, particularly for trout. For anglers seeking a diverse fishing experience, the river is home to stocked and wild brown trout.
The river flows through a beautiful and picturesque setting, offering anglers a serene and immersive fly fishing environment. Anglers can access the river from PA-453 and other paved roads nearby.
12. LeTort Spring Run
Located near the town of Carlisle, South-Central Pennsylvania
A limestone stream renowned for its exceptional wild trout fishing, particularly brown trout. It is considered one of the best streams in the state for wild trout fishing.
This section offers quick-flowing water and an ideal habitat for local wild trout. Letort Spring Run can be fished all year round, but hatches and active feeding happen in April and July.
13. Falling Springs Branch Creek
Located near Chambersburg, Pennsylvania, Falling Spring Branch is a limestone spring creek.
A small limestone spring creek, perfect for fly fishing for trout. It provides an accessible landscape with easy access from nearby roads and parking areas.
The water in the creek is cool, slow-moving with deep pools and stunning waterfalls, perfect for fly fishing. The recommended fishing season is during the standard trout season.
14. Ridley Creek
In Chester and Delaware counties in Pennsylvania, it's a tributary to the Delaware River.
Ridley Creek is a tributary of the Delaware River, spanning about 7 miles. It is easily accessible, making it a perfect day trip fly fishing destination, especially for those traveling from Philadelphia.
The creek offers clear, cool water and supports healthy brown and rainbow trout populations. Due to its cool water, it also provides good fly fishing opportunities throughout the all-year fishing seasons, even during summer.
15. The Susquehanna River
Runs from the lower Northeast into the Mid-Atlantic region of the United States is a primary smallmouth bass fishery.
The river offers exciting and challenging fly fishing opportunities for anglers of all levels.
Fly fishing for smallmouth bass is a favorite pastime in the Susquehanna. The river is the longest on the east coast, providing plenty of opportunities to catch fish in open water.
16. Slate Run Creek
Lying between Blackwell and Waterville along Pennsylvania Route 414, Slate Run Creek is a beautiful limestone spring creek.
Fly fishing in this creek is a classic experience due to its abundant wild brown and brook trout and clear, cool water.
The crystal-clear water in Slate Run Creek offers sight fishing opportunities, where one can see the trout as they feed and react to your flies. The creek's natural scenery and surroundings only add to the allure of the fishing experience.
17. Big Springs Creek
Big Springs Creek is a clear, cool water creek in Cumberland Valley, Pennsylvania, surrounded by picturesque scenery.
This creek is known for its brown and brook trout, some of which are sizable. It is particularly productive throughout the year due to its Class A trout waters status.
With wading possible in some areas, the summer shade keeps the water cool and makes it an appealing summer fishing location. However, access can be limited by private property.
What is the best time to fly fish in Pennsylvania?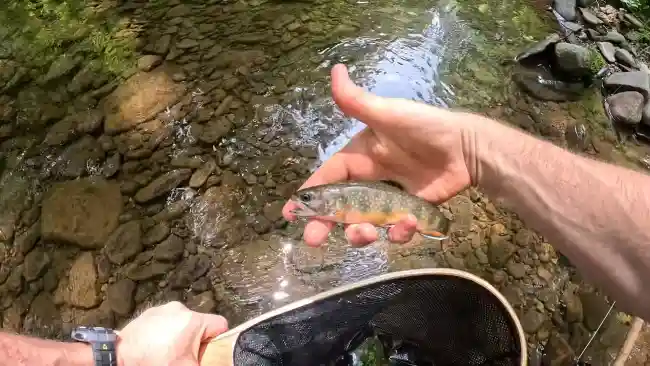 Well, it all depends on the season and location. If you plan to cast your line in the Spring (March to May), then Penns Creek and Spruce Creek are your go-to spots. You can catch aquatic insects for fly fishing and even witness the Green Drake hatch during this time.
As for the Summer season (June to August), the waters of Penns Creek are still fruitful, but the trout become more selective. Catching them during this time can be harder, but it's not impossible. When fishing in Big Fishing Creek, try scuds and sowbugs.
In the Fall (September to November), larger brown trout become more active and aggressive in anticipation of the spawning season. At Elk Creek, it's steelhead runs that you can expect in the Fall and Spring. If you're fishing in Kettle Creek, the Summer season is your best bet for more abundant and bigger fish.
Visiting Lake Erie is a must if you're looking for a year-round spot. Spring is the prime season for trout and steelhead. Meanwhile, Yellow Breeches Creek also offers good fishing all year round, with cooler areas being more productive during the warmer months.
The Allegheny River is also great for year-round fishing, though you should keep an eye on water level changes from the Kinzua Dam. Other year-round spots include Tulpehocken Creek, Little Juniata River, Letort Spring Run, Falling Springs Creek, and Ridley Creek.
Which fish species can be caught in Pennsylvania using fly fishing?
If you're into fly-fishing in Pennsylvania, there are a bunch of fish species you can catch. Some popular ones include Brown, Rainbow, and Brook Trout, which can be found stocked and wild in various locations.
And if you head to the Lake Erie tributaries, you can also snag some Steelhead (Rainbow Trout). But that's not all! You can also try your luck with Smallmouth Bass in rivers and streams.
Of course, you might also come across some other species depending on where you fish and the water conditions.
What are the fly fishing regulations in Pennsylvania?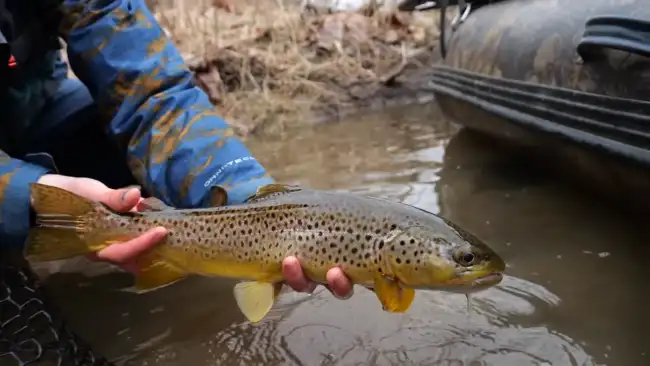 Licensing and Permits: All anglers, including fly fishermen, require a valid Pennsylvania fishing license. Licenses can be obtained online through the Pennsylvania Fish and Boat Commission (PFBC) website or authorized license-issuing agents. The license must be carried while fishing and presented to law enforcement officers upon request.
Trout Season and Regulations: The trout fishing season in Pennsylvania is generally from the opening day in early April to mid-September. There are special regulations for different sections of streams and rivers, including Catch and Release, Delayed Harvest Artificial Lures Only, and Fly Fishing Only areas.
Catch and Release: Some areas are designated as Catch and Release, where all trout caught must be immediately released unharmed back into the water. In Catch and Release areas, barbless hooks or hooks with the barbs pinched down are required.
Artificial Lures and Flies: Only artificial lures, flies, and streamers are permitted in designated Fly Fishing Only areas. Live bait, natural bait, and soft plastic lures are prohibited in these areas.
Access to Water: Public access is available on many streams and rivers, but some may pass through non-public property. Always observe private property and obtain proper permissions if required. Check local regulations and signs for specific access restrictions or permitted fishing areas.
Species-Specific Regulations: Besides trout, specific regulations exist for other species, such as bass, steelhead, and smallmouth bass, in certain waters. Check the PFBC website for species-specific rules.
Report Harvested Tagged Trout: Some areas may have tagged fish for research or management purposes. Anglers are encouraged to report the capture of tagged fish to the appropriate authorities.
Conservation and Ethics: Practice ethical angling by minimizing handling and stress on the fish, releasing them carefully and quickly. Respect the environment, wildlife, and other anglers while enjoying the fly fishing experience.
#Note: These regulations are subject to change. Visit the official Pennsylvania Fish and Boat Commission website for the most up-to-date and detailed regulations and any additional local rules that may apply to specific fishing locations.