Key Takeaways:
Diverse fishing opportunities with trout, steelhead, salmon, and bass.
Scenic rivers like McKenzie and Rogue are rich in fish and wildlife.
Spring creeks offer excellent dry fly fishing and sight fishing.
Reservoirs like Davis Lake and Wickiup are for fly fishing only.
Remote rivers like John Day and Grande Ronde for unique fishing trips.
Verify regulations and local conditions for a successful trip.
Oregon's Top 22 Fly Fishing Spots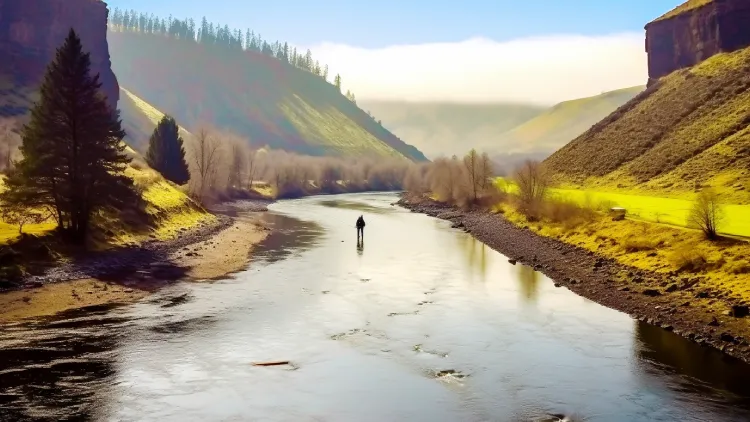 While you can find good fishing opportunities in many rivers and lakes in Oregon, the following 22 spots offer some of the best fly fishing experiences.
McKenzie River
Crooked River
Davis Lake
Rogue River
Diamond Lake
North Umpqua River
Fall River
Wickiup Reservoir
Lower Deschutes River
Upper Deschutes River
Fern Ridge Reservoir
Crane Prairie Reservoir
Clackamas River
East Lake
Metolius River
Grande Ronde River
Williamson River
Klamath River
Hosmer Lake
John Day River
Owyhee River
Wood River
Let's take a closer look at each of these top fly fishing spots.
01. McKenzie River
Located in western Oregon, the McKenzie River stretches for 90 miles, flowing into the Willamette River.
This scenic and healthy river boasts good populations of Chinook salmon, rainbow trout, cutthroat trout, and bull trout, making it a top spot for fishing enthusiasts.
With large public lands surrounding the river, you can enjoy a peaceful natural environment with minimal residential and agricultural development while spotting an array of wildlife such as ospreys, dippers, and bald eagles.
02. Crooked River
The Crooked River is a 125-mile tributary of the Deschutes River located in Oregon.
Bowman Dam provides ideal conditions for fishing, offering a productive and healthy abundance of redband trout, making this a top destination for catching trout.
Due to the cold water flow of the river through its deep basalt canyon, you will have a wide array of fly fishing opportunities to explore its abundant fishy features and insect habitat.
03. Davis Lake
Located near Oregon Route 58 and U.S. 97, Davis Lake is a large and shallow lake on the border of Deschutes and Klamath counties in Oregon.
As a fly fishing only lake, you can hone your fly-fishing skills while catching rainbow trout and illegally-introduced largemouth bass.
Davis Lake is an excellent location for diverse fly fishing experiences with specific areas that are motor-accessible, providing accessibility to lily pads and drop-offs to try various fishing techniques.
04. Rogue River
Beginning at Boundary Springs, the Rogue River is one of the longest rivers in Oregon, flowing for approximately 200 miles before reaching the Pacific Ocean at Gold Beach.
This scenic river is famous for its healthy populations of steelhead, salmon, and trout, making it a prime target for fishermen.
The Rogue River is named one of the eight rivers in the Wild and Scenic Rivers Act, and it offers diverse fly fishing opportunities throughout the year whilst being subject to high water events due to significant precipitation.
05. Diamond Lake
In the Umpqua National Forest in Douglas County, Diamond Lake is a water body located near the junction of Oregon Route 138 and Oregon Route 230.
Diamond Lake allows visitors to catch various trout species, including rainbow, brown, and tiger trout, making it an excellent spot for trout fishing.
With ODFW regularly stocking huge numbers of rainbow trout and introducing sterile tiger trout and brown trout, this location aims to combat invasive fish species like tui chub, offering an excellent and protected fishing experience.
06. North Umpqua River
The North Umpqua River is a 106-mile tributary of the Umpqua River located in southwestern Oregon in the United States, inhabited for over 7,700 years.
This river is famous for its summer and winter steelhead runs, known for their big, aggressive fish, making it an excellent destination for experienced anglers.
With a 33.8-mile fly fishing only stretch, the North Umpqua River offers amazing opportunities for catching steelhead, averaging about eight pounds and occasional fifteen-pounders. However, heavier gear is required during winter flows.
07. Fall River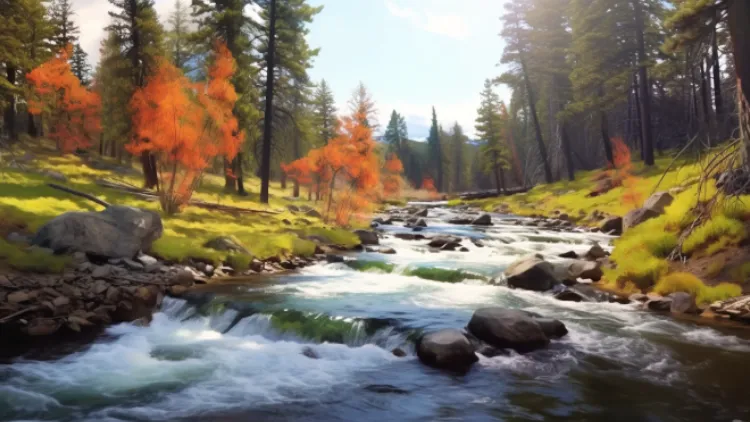 A tributary of the Deschutes River in Deschutes County, Fall River flows outside of Sunriver in the Deschutes National Forest. Approximately two miles northwest of Pringle Falls is the source of the water.
Fishermen who desire prime spring creek fishing while catching rainbow, brown, and brook trout, should head to Fall River.
Ideal for 5wt or 3wt or rods and small spring creek flies, this location offers prolific hatches of BWO cripples and PMD cripples, and with easy access from Fall River Campground, it's the perfect spot for a day out fishing.
08. Wickiup Reservoir
In the Deschutes National Forest, Wickiup Reservoir is the second-largest reservoir in Oregon, 60 miles southwest of Bend, and the largest of the Cascade Lakes.
Wickiup Reservoir is the place to be if you're after massive brown and rainbow trout.
During summer, the lake levels tend to fluctuate, so be aware that it's dependent on water release. One of the unique fishing opportunities here is for Kokanee during their late-summer spawn.
09. Lower Deschutes River
The Deschutes River in central Oregon is a major tributary of the Columbia River. Wild and Scenic Rivers Act names it one of eight rivers.
Lower Deschutes River is the only fly-fishing only stretch available in the area and is known for outstanding redband trout fishing and summer steelhead runs.
If you fancy dry fly and nymph fishing, the Deschutes River offers an abundance of opportunities with various insect hatches.
10. Upper Deschutes River
During the summer or after mid-summer, or during winter, the Deschutes River in Oregon, particularly between Benham Falls and Lake Billy Chinook.
The stretch along Benham Falls to Lake Billy Chinook is known for its Czech nymph fishing. And during the summer, you can fish with huge dry flies and streamers for rising trout.
It's also worth grabbing your winter gear and heading there when it's colder, as you can have some success with heavier gear and bigger flies.
11. Fern Ridge Reservoir
A reservoir on the Long Tom River, Fern Ridge Reservoir, is located approximately 12 miles west of Eugene on Oregon Route 126.
Fern Ridge Reservoir is an ideal quick getaway for bluegills, crappie, and bass.
It's a fantastic spot to take kids learning to fly fish because of the abundant bluegills and crappies. Look for largemouth bass near underwater structures if you want a fun fight.
12. Crane Prairie Reservoir
In Deschutes County, Oregon, the man-made Crane Prairie Reservoir Lake is located approximately 42 miles southwest of Bend. It's on the Deschutes River and a half-hour drive from La Pine, Oregon.
Crane Prairie Reservoir is known for its monster rainbow trout.
During summer, fish migrate to the mouths of cold water springs, making it effective fishing with streamers along productive drop-offs. Fishing from a boat is recommended.
13. Clackamas River
The Clackamas River is an approximately 83-mile tributary of the Willamette River in northwestern Oregon in the United States. It's an hour away from Portland on Highway 212/224, Oregon.
One of Clackamas River's phenomenal attractions is the winter steelhead run from November to May.
Fishing with Spey rods and larger flies on the swing is best if you're after larger fish. Good success has been seen with intruder-style flies in purple or orange. It's also home to stonefly attractor nymphs.
14. East Lake
Near La Pine in the Deschutes National Forest, East Lake is located at the foot of Newberry National Volcanic Monument, Oregon's largest ice-age volcano.
East Lake is home to monster rainbows and brown trout.
During summer, there are abundant hatches of Callibaetis and Chironomids, creating great dry fly fishing opportunities. You can also fish streamers along the edge of productive drop-offs.
15. Metolius River
In Central Oregon, United States, near Sisters, the Metolius River flows into the Deschutes River. It's considered one of the finest spring creeks in Oregon.
The fly-fishing-only river is famous for its resident bull trout migration from Lake Billy Chinook.
No commercial guiding is allowed, and it's a pristine spring creek environment with red band trout. Bull trout migrate upriver during winter from Lake Billy Chinook.
16. Grande Ronde River
Located in northeastern Oregon and southeastern Washington, the Grande Ronde River stretches 182 miles.
The Grande Ronde River is well known for its prime trout fishery during late spring and early summer, combined with excellent smallmouth bass fishing during the hot summer months. For steelhead enthusiasts, the river has winter steelhead runs from October, which are not to be missed.
Look forward to a remote and peaceful fishing experience where you can soak in solitude and quietness. Don't forget to use drift boats to enhance the effectiveness of your fishing experience.
17. Williamson River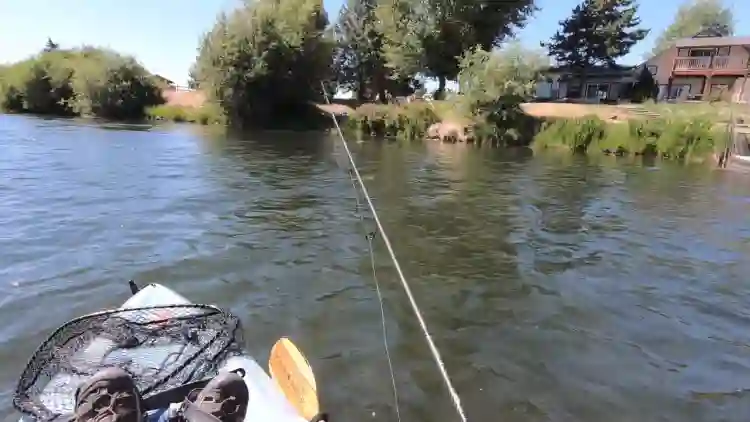 In south-central Oregon, the Williamson River drains about 3,000 square miles east of the Cascade Range. It stretches 100 miles long.
The Williamson River is renowned for its trophy-sized trout, especially migratory redband trout from Klamath Lake during summer.
This river is fed by cool waters from Klamath Lake, contributing to the thriving resident fish populations and migratory trout. Fly fishing enthusiasts should bring lightweight gear and prepare for excellent hatches in this gorgeous river.
18. Klamath River
The Klamath River flows 257 miles through Oregon and northern California, eventually emptying into the Pacific Ocean.
With trout, salmon, and steelhead fishing opportunities all year round, the Klamath River offers everyone a variety of fishing experiences. The scenic views and diverse species make this location a must-visit for avid fly fishers.
One of the most unique aspects of the Klamath River is how it flows from a desert to mountains, giving anglers a sense of adventure as they explore the river. You can also opt for a guide if you are new to the area.
19. Hosmer Lake
A natural body of water located roughly 20 miles off Bend along the Cascade Lakes Scenic Byway in central Oregon, Hosmer Lake is a natural body of water that receives a considerable amount of rainfall each year.
As one of the few fly fishing only water bodies, Hosmer Lake is famous for its huge brook trout and stocked Atlantic salmon. With shallow waters averaging only 3 feet deep, anglers should be prepared to employ delicate techniques to attract wary fish.
The lake has plentiful hatches and sight fishing opportunities. If catching fish proves difficult, you can always take up paddle boarding to enjoy the natural beauty of Hosmer Lake.
20. John Day River
A tributary of the Columbia River, the John Day River flows through northeastern Oregon for approximately 284 miles.
Smallmouth bass fishing is fantastic during summer, while winter steelhead runs begin in October. This location is a multi-species fishery for fly fishers with various skill levels.
The John Day River's remote location necessitates a drive, but its opportunities make the journey worthwhile. You would need a spey rod for winter steelhead runs, and smallmouth bass fishing in summer is a must-try experience.
21. Owyhee River
The Owyhee River is a Snake River tributary located in several states, including northern Nevada, southwestern Idaho, and southeastern Oregon, stretching 280 miles long.
This river is known for its excellent brown trout fishery, and you can expect to catch good numbers of 20-24 inch fish.
Owyhee River is ideal for adventurous solo fly fishers searching for picturesque views, with several spots only accessible by foot or in a raft. It is advisable to fish with caution during the warmer months, as rattlesnakes are common in the area.
22. Wood River
The Wood River runs through Klamath County, Oregon, with headwaters originating from a large natural spring found in Jackson F. Kimball State Recreation Site. An aquifer feeds the spring 20 miles (32 km) to the northwest in the east side drainage of Crater Lake National Park.
In this river, you can catch trophy trout that migrate and reside, making it a Wade fishing paradise.
The grassy banks of Wood River are home to large terrestrials like beetles and grasshoppers, making for great sight fishing experiences. The river is best floated in a low-profile craft like a canoe or kayak, allowing you to explore parts of the river only accessible from the water.
What is the best time to fly fish in Oregon?
During springtime (March to May), the McKenzie River is the place to be. This season sees exciting hatches pop up, significantly increasing your chances of catching rainbow and cutthroat trout. The Crooked River is another spot to head to in spring, as the redband trout becomes active, making fly fishing productive.
The summer months (June to August) offer some of the most abundant dry fly fishing opportunities in Oregon. The East Lake is a fantastic destination in June and July, as the Callibaetis and chironomid hatches mesmerize the fish.
Davis Lake is also a great pick during wet summers, especially if you're looking to catch huge trophy rainbow trout. If you fancy brown trout, Wickiup Reservoir is where you should be. The bull trout migrating from Lake Billy Chinook to Metolius River during summer is a sight.
As fall (September to November) sets in, so does the opportunity for excellent fishing. Traveling to the Grande Ronde River in late spring and early summer is a great idea to experience trout fishing at its best. During warm summer, the Williamson River is ideal for migratory red band trout escaping Klamath Lake.
Smallmouth bass fishing is a hot pursuit on John Day River in summer, and winter steelhead runs come in October. Lastly, the Klamath River offers the one-stop-shop for any fishing enthusiasts – from trout, salmon to steelhead, you name it.
Then again, for the winter months (December to February), Oregon offers plenty of opportunities to catch a winter steelhead. Travel to the North Umpqua River and fish to your heart's content. For a sublime winter fishing experience, the Clackamas River is your best bet, starting from November all through to May.
The Upper Deschutes River is perfect for Czech nymphing during the colder months, while the Wood River is an excellent destination for both migratory red band trout and resident brown trout.
Which fish species can be caught in Oregon using fly fishing?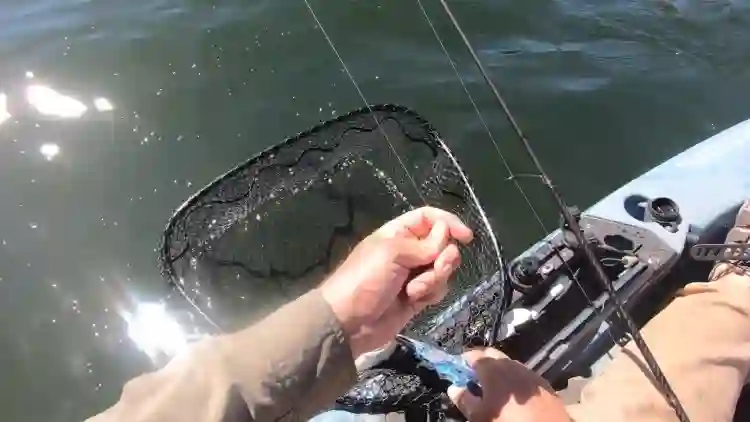 Rainbow Trout: These beauties are found in rivers, streams, and lakes throughout the state and are popular for fly fishermen.
Cutthroat Trout: Native to Oregon, cutthroat trout are mostly found in clear, cold mountain streams and coastal waters, making them a challenging catch.
Brown Trout: Residing in rivers and lakes, brown trout are great for fly fishing and offer excellent opportunities for ambitious anglers.
Brook Trout: Known for their striking colors and enthusiasm for taking flies, brook trout can be found in high-elevation mountain streams and lakes.
Steelhead: Year-round, this fish can be found in various rivers across Oregon, making it one of the most popular and sought-after fly fishing species.
Chinook Salmon: These fish, also known as king salmon, are still available in some rivers during their runs and make for a thrilling catch for fly fishermen.
Coho Salmon: Another popular salmon species in Oregon, coho salmon can be targeted using fly fishing techniques in some rivers.
Smallmouth Bass: If you prefer warmer waters, you'll love fly fishing for smallmouth bass in rivers and reservoirs during summer.
Largemouth Bass: Though not as common as smallmouth bass for fly fishing, certain lakes and ponds in Oregon offer the opportunity to catch largemouth bass using fly fishing techniques.
Bull Trout: Though rare and protected, bull trout can still be targeted in specific areas for catch-and-release fly fishing opportunities.
Tiger Trout: A hybrid between the brook and brown trout, tiger trout are stocked in some waters and offer a unique challenge for fly fishers.
Kokanee Salmon: Found in reservoirs, landlocked sockeye salmon, known as kokanee, provide an exciting challenge for fly fishermen.
What are the fly fishing regulations in Oregon?
Regulations for fly fishing in Oregon include bag and possession limits and size restrictions. A valid fishing license is required for all anglers over 12 years old engaging in fly fishing.
i) You need a valid fishing license to engage in fly fishing if you're over 12 years old. There are also Free Fishing Days in Oregon, but they are limited to a few days spread across the year.
ii) Bag and possession limits apply to fly fishing in Oregon. You can catch up to 2 White Sturgeons, 6 Pacific Halibuts, and 20 Salmon and Steelheads, recorded on your Combined Angling Tag. Hatchery Salmon and Hatchery Steelhead don't count towards the limit if you legally record them on your Hatchery Harvest Tag.
iii) There is also a possession limit which caps at 3 daily bag limits per each species.
In any case, there are certain variations, such as 1 daily bag limit per vessel or 3 daily bag limits on land for Pacific Halibut, 2 daily bag limits for all marine finfish, shellfish, and other marine invertebrates in the Marine Zone, and 1 daily and annual bag limit for fish from the Columbia River.
iv) Oregon fly fishing also has a few size limitations for Salmon, Steelhead, and Trout. Chinook Salmon, Coho Salmon, Steelhead, and Trout have varying lengths of size requirements depending on zones.
v) There are general restrictions and prohibited activities too, such as using over one rod or line, not tending to rods and tubes closely, and not releasing undersized, oversized, or unwanted fish species.
Other prohibited activities include snagging gamefish, attempting to take fish through chumming, taking fish from state and federal hatchery facilities, and more. So, acquaint yourself with all the rules before you start fishing.