Key Takeaways:
Idaho offers diverse and abundant fly fishing opportunities across its rivers, lakes, and streams, attracting anglers from all over the world.
Different locations in Idaho offer prime fly fishing times at various seasons throughout the year. From year-round fishing to specific hatches, there's always a great time to enjoy fly fishing in the state.
Idaho fly anglers can target various fish species, including rainbow trout, cutthroat trout, cut-bow trout, brook trout, brown trout, smallmouth bass, steelhead, chinook salmon, and kokanee salmon.
Anglers should know the specific regulations and rules for each waterbody they plan to fish and stay updated with the latest information from the Idaho Fish and Game Department.
List of the 11 Best Places to Fly Fish in Idaho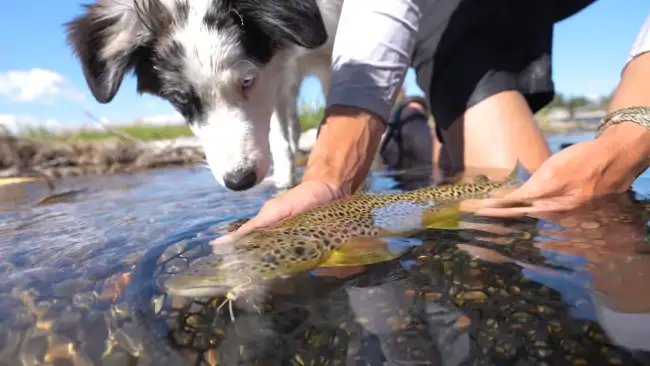 There's something magical about fly fishing in Idaho. From the crisp waters of the Teton River to the peaceful banks of the Henry's Fork, there's no better place to cast a line and feel the rush of the catch. These are the 11 top places to fly fish in Idaho:
Teton River
Henrys Lake
Silver Creek
Big Wood River
North Fork Coeur d'Alene River
Henry's Fork
Salmon River
Hayden Lake
Boise River South Fork
Warm River
Little Wood River
Here are some details about these places:
1. Teton River:
Located in southeastern Idaho, flowing 64 miles and joining the Henrys Fork of the Snake River.
A prime location for fly fishing enthusiasts, boasting great populations of rainbow trout, cutthroat trout, cut bows, and brook trout. Year-round consistent hatches and big healthy fish make it a must-visit spot.
Offers less crowded boat ramp access, providing a great fishing experience. For the best catch, recommended flies include Purple Chubby, Tan Foam/Orange Belly Chubby, Stimulator, Grey Drake, and Flashback Pheasant Tail.
2. Henrys Lake:
Located in southeastern Idaho, just 15 miles from Yellowstone National Park. Accessible through Henrys Lake State Park on the south side.
Perfect for stillwater fishing enthusiasts, with high catch rates of brook trout, cutthroat trout, and cut bows. Some of these fish species can reach lengths of over 25 inches, providing an exciting catch throughout the year.
Surrounded by the Continental Divide on three sides, the location offers beautiful scenery and a great atmosphere for relaxation and fishing.
3. Silver Creek:
Located approximately 30 miles south of Sun Valley, Idaho. It has two sections, one as a spring-fed tributary of the Little Wood River in Blaine County and another as a tributary of the Middle Fork of the Payette River in Boise County, near Crouch.
Meandering spring creek is well-known for its rainbow and brown trout, making it a popular spot for fly fishing enthusiasts. The creek is famous for its epic mayfly hatches, especially in September, providing a unique experience for fishing.
Offers public access along its length, with a fly fishing-only section managed by Nature Conservancy. Recommended flies for catch include BWOs, Midges, Terrestrials (grasshoppers, beetles), and Scuds.
4. Big Wood River:
A classic freestone river in Central Idaho, approximately 137 miles long, supporting healthy fish populations.
Known for caddis, stonefly, and mayfly hatches, providing excellent fly fishing opportunities.
With countless miles of access, this river is perfect for those who enjoy exploring and finding new spots to catch fish. Mid to late June is the prime time for hatches, so plan accordingly.
5. North Fork Coeur d'Alene River:
A remote dry fly fishing paradise located just east of Spokane, with emerald waters flowing south through the Silver Valley in Idaho.
Abundant Westslope Cutthroat Trout, known for going after buggy presentations.
As you drive along the Coeur d'Alene River Road, the fishing improves, and the scenery becomes more beautiful. The recommended flies for this spot include Super Beetle (terrestrial), Red, or Black Copper John.
6. Henry's Fork:
A tributary river of the Snake River, approximately 127 miles long, is known as one of the greatest dry fly fishing spots in the world.
Rainbow and cutthroat trout, famous salmon fly hatch around mid-May to mid-June, and fall BWO hatches.
Best fished from a drift boat, the river offers a range of fishing experiences, from calm and peaceful water to fast-moving rapids. The recommended flies for this spot include BWOs, Streamers, and Salmon fly patterns.
7. Salmon River:
A 425-mile-long river located in central Idaho, known as "The River of No Return," offers diverse fishing opportunities.
Steelhead fishing is best in winter and spring, fall for chinook salmon, and summer for smallmouth bass and resident brown trout.
Fished from a drift boat, but wade fishing is also possible. Recommended flies include Egg patterns, Egg Sucking Leeches, Intruder style flies for steelhead, and terrestrial patterns for smallmouth bass.
8. Hayden Lake:
Located in Kootenai County, around 3,800 acres with 40 miles of coastline, considered a suburb of Coeur d'Alene.
Offers many fishing opportunities, including rainbow trout, northern pike, largemouth bass, and Kokanee salmon.
Year-round fishing with public access and generous Kokanee limits. Recommended flies include Conehead Marabou Leech patterns for Kokanee and rainbow trout.
9. Boise River South Fork:
Home to giant rainbow trout and bull trout that flow into Arrowrock Reservoir in southwestern Idaho.
Tailwater fishery with fantastic bug life, best fished with artificial lures.
Countless miles of access, restrictions on artificial lures and barbless hooks. Recommended flies include Hopper-dropper rig, Leeches, Terrestrial patterns, RS2s, Disco Midges, and Top Secret Midges.
10. Warm River:
A spring-fed river outside Yellowstone National Park in the Caribou-Targhee National Forest of southwestern Idaho.
Virtually unlimited access with great fly fishing for beginners.
Year-round fishing with various fly patterns for different conditions. Recommended flies include Terrestrial patterns with a Flashback Pheasant Tail, Caddis patterns, and BWOs.
11. Little Wood River:
Flowing out of the Pioneer Mountains, the river offers excellent fly fishing for beginners, approximately 130 miles long in south-central Idaho.
Small freestone river with aggressive brown trout and acrobatic rainbow trout.
Different flies for different hatches year-round, with access points above Little Wood Reservoir and below the desert stretch. Recommended flies include BWOs, Tailwater midges, Big Terrestrials, and Streamers.
What is the best time to fly fish in Idaho?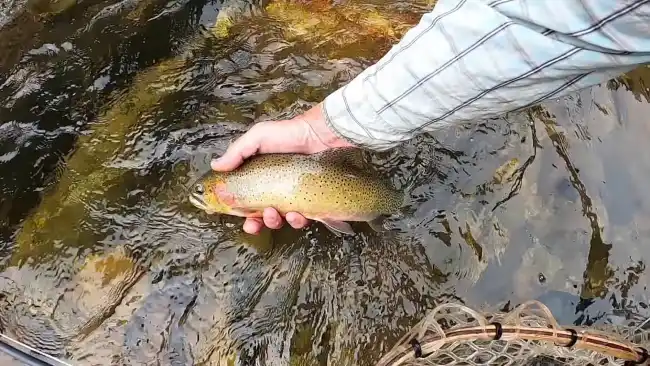 Idaho is a paradise for fly fishing enthusiasts with a splendid fishing experience year-round.
For fly fishing enthusiasts, the Teton River offers year-round consistent hatches. Henrys Lake is another fantastic fishing destination best visited during late Spring through Fall. Meanwhile, Silver Creek is perfect for year-round fly fishing, especially during its mayfly hatches.
For mid to late June, fishing opportunities are abundant in the Big Wood River, depending on the snowpack conditions. North Fork Coeur d'Alene River is also a great fishing location, particularly during the Spring and Summer months.
For the ultimate fly fishing experience, adrenaline-seekers must visit Henry's Fork from mid-May to mid-June as it is the prime fishing season during its salmon-fly hatch. The Fall is also an excellent season to explore this stunning fishing spot.
The Salmon River is another alluring destination that offers different fishing experiences throughout the year. One can indulge in steelhead fishing during winter and spring, chinook salmon fishing during the Fall, or catching smallmouth bass and resident brown trout during the summers.
Overall, Idaho's natural beauty and unlimited outdoor spaces make it a fly fisher's haven with ample opportunities for adventure.
Which fish species can be fished in Idaho using fly fishing?
The diverse waterways in Idaho offer many opportunities to catch several fish species just waiting for us to reel in. But Rainbow trout is a popular catch in many rivers and lakes across Idaho. They're known for their acrobatic fights and willingness to take a fly, making them a prime target for fly anglers.
But that's not all because Idaho is also home to different subspecies of cutthroat trout, including Yellowstone, Snake River, and Westslope Cutthroat. These beauties love the cold, clear streams and rivers and put up a great fight when hooked.
If that's not enough to entice you, catch the Hybrid Cutbow Trout, which combines both rainbow and cutthroat trout characteristics. Their exciting fight is something we're sure you'll never forget.
The Brown Trout is the perfect catch for anglers who want a bit more of a challenge. They are known for their wariness and tricky behavior, but finding them in select rivers and lakes in Idaho makes for a rewarding fly fishing pursuit.
But wait, there's more! If you're feeling adventurous, you can target Steelhead during their winter and spring runs in Idaho's rivers, like the Salmon River. And during their fall run, Chinook salmon are available for fly fishing in Idaho's rivers.
What Are the Fly Fishing Regulations In Idaho?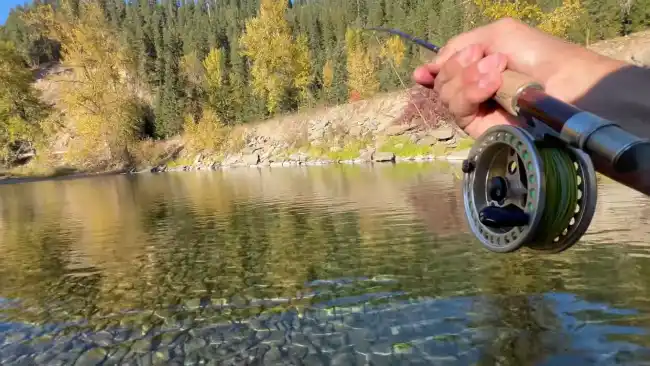 All anglers aged 14 years and older must possess a valid Idaho Fishing License to engage in fly fishing for fish, bullfrogs, or crayfish. Youth anglers under 14 do not need a fishing license. Idaho offers different fishing licenses for residents and non-residents, each with varying costs and durations.
Specific fishing permits may be required for fishing for salmon and steelhead or fishing with two poles.
The bag limit refers to the maximum number of fish an angler can catch daily. Bag limits vary depending on the species and region within Idaho. Some examples include:
Trout: Daily bag limits for trout vary by region, usually ranging from 2 to 6 fish.
Tiger Trout: The bag limit for Trout is generally 6 fish, all combined species.
Whitefish: The daily bag limit for Whitefish is 25 in most waters.
Some waters in Idaho have catch-and-release rules for certain fish species during specific periods to protect the fish populations.
Steelhead Fishing Season:
Steelhead fishing season in Idaho typically lasts from January to April or May, and specific regulations apply during this period.
Transport and Introduction of Live Fish:
It is illegal to transport or release any species of live fish, including crayfish and bullfrogs, in Idaho without a permit from the director of Fish and Game.
Anglers must follow the rules and regulations of the state where they are fishing when fishing in boundary waters between Idaho and other states, such as Bear Lake and the Snake River.
Specific tackle configurations are required for sturgeon fishing to reduce unintentional sturgeon deaths due to swallowed tackle.

#Note: These rules are subject to change. Visit the official Idaho Fish and Game Department website for the most current and detailed regulations and rules for specific fishing areas.