Key Takeaways:
New Mexico offers diverse and beautiful fly fishing destinations with a variety of fish species, including rainbow trout, brown trout, cutthroat trout, Gila trout, and more.
Top fly fishing spots in New Mexico include the San Juan River, Rio Grande, Red River, Gila River, and Eagle Nest Lake.
Optimal fly fishing times vary by season, with spring being great for hatches and midges, summer for comfortable weather, fall for large brown trout, and winter for productive trout fishing.
To fly fish in New Mexico, you need a valid fishing license, and specific waters may have additional regulations on bag limits, fishing hours, and motorized boat restrictions.
Always check for updates on fishing regulations and guidelines before heading out to any fishing location in New Mexico.
List of the Top 16 Places for Fly Fishing in New Mexico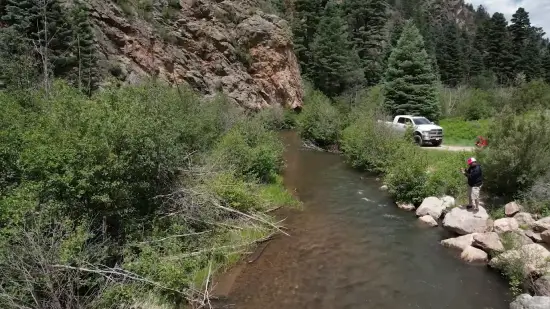 Discover 16 exceptional fly fishing destinations in New Mexico, where you can immerse yourself in scenic beauty and diverse fish species. Here's a quick list of the featured locations:
San Juan River
Rio Grande & Major Tributaries
Red River
Rio Guadalupe
Gila River
Upper Pecos River
Santa Cruz Lake
Ruidoso River
Fenton Lake
Green Meadows Lake
Cimarron River
Rio Chama River
Costilla Creek
Whiskey Lake
Eagle Nest Lake
Heron Lake
Let's examine these fly fishing spots in more detail.
1. San Juan River
Head to northwest New Mexico and find the San Juan River. It is a major tributary of the Colorado River.
Known for impressive trout populations, especially brown and rainbow trout. Consistently chilly water temperature due to being a tailwater.
Fishing in the Upper Flats or Texas Hole is recommended. Midges and annelids are preferred food for fish. A 5 or 6-weight rod with a 5 or 6x fluorocarbon tippet is suitable.
2. Rio Grande & Major Tributaries
Flows from the Rocky Mountains in Colorado to the Gulf of Mexico, passing through northern New Mexico's Rio Grande Gorge.
Offers great fly fishing with wild trout species like rainbow, cutthroat, and brown trout.
Some sections require difficult hiking due to deep gorges. Fishing is best in late summer into fall for water clarity. BWOs, Little Black Caddis, and Western March Browns are effective fly patterns. Nymphing and streamers work well.
3. Red River
Located in New Mexico's Taos County, which is divided into upper and lower sections flowing into the Rio Grande.
The upper section offers technical fishing with stocked rainbows, while the lower section features wild brown and cut-bow trout.
Effective fly patterns include BWOs and Little Yellow Stoneflies in spring and terrestrials in late summer. Recommended 5 or 6-weight rod with fluorocarbon tippet.
4. Rio Guadalupe
Travels 13.4 miles from Porter, New Mexico, joining the Jemez River downstream of Gilman, NM.
A stream in New Mexico with stocked rainbows and wild brown trout.
Accessible through NM 485, and best flies include small WD-40s and Pheasant Tails. Recommended 4 to 6 weight rods with 5 or 6x tippet.
5. Gila River
Source in western New Mexico in Sierra County, on the western slopes of the Continental Divide in the Black Range.
Offers opportunities for rainbow trout, smallmouth bass, sunfish, and catfish fishing.
Hiking and weather challenges due to higher elevation. Effective fly patterns include mayflies, stoneflies, midges, and caddis hatches.
6. Upper Pecos River
Flows into Texas and empties into the Rio Grande from north-central New Mexico.
Contains wild brown trout and stocked rainbows, best fishing from May into June during the Stonefly hatch.
Fishing is better from May into June during Stonefly hatch. A 4 to 6-weight rod with fluorocarbon leader is ideal.
7. Santa Cruz Lake
Covers 121 surface acres in the foothills of the Sangre de Cristo Mountains.
Home to the state record rainbow trout, offering good bank fishing opportunities and hiking trails.
Boats are allowed at trolling speeds. A sinking line is useful to get close to the bottom. Minnow patterns, streamers, and midges work well.
8. Ruidoso River
A 30-mile-long river located in the Sierra Blanca and Sacramento Mountains.
Contains brook, rainbow, cutthroat, and brown trout.
Effective fly patterns include stonefly and midge patterns.
9. Fenton Lake
Fenton Lake State Park is situated at an elevation of about 7,900 feet in the Jemez Mountains.
Contains rainbow trout and offers 700 acres of the state park with 37 acres of the lake surface.
Good bank fishing opportunities, but watch for overhanging trees. Suitable for kayaking. Wooly Bugger and Midge patterns are successful.
10. Green Meadows Lake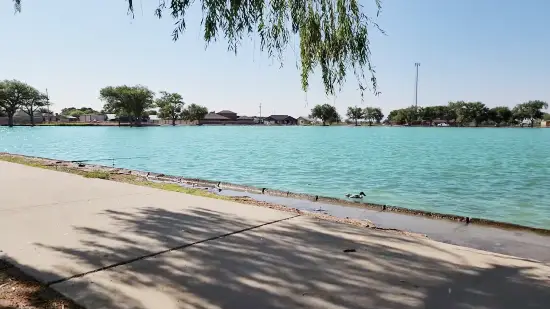 An 11-acre lake located in Hobbs town, New Mexico.
Home to white bass, brown and rainbow trout, catfish, and warmouth. Easy access and suitable for teaching fly fishing.
Stocked fish are less selective on flies. Minnow patterns and Wooly Buggers work well.
11. Cimarron River
River rising in northeastern New Mexico, near Capulin Mountain National Monument, flows to the Arkansas River near Tulsa, Oklahoma.
Known for small stream brown trout fishing.
Caddisflies, Mayflies, and Stoneflies will hatch. Nymphs and streamers are effective. Tailwater fishery with consistently cool water.
12. Rio Chama River
A major tributary river of the Rio Grande, located in the U.S. states of Colorado and New Mexico.
Remote stream bordering Colorado with stunning scenery, offering quiet solitude and minimal crowds.
Fish species include rainbow and brown trout.
13. Costilla Creek
Located in New Mexico, with a tailwater from Costilla Reservoir.
Known for Costilla cutthroat trout, which are fast and challenging to catch.
Dry flies and small nymphs are effective. An unobstructed stream allows for easy casting.
14. Whiskey Lake
Located on Navajo Reservation, New Mexico.
Stocked with rainbow trout, it can be fished from the bank or a small boat.
Effective fly patterns include dry flies and small nymphs.
15. Eagle Nest Lake
Located in the northern part of the state, near the town of Eagle Nest.
Provides excellent Kokanee salmon and trout fishing, accessible and suitable for family trips.
Fishing is best with an 8-weight rod and using Gutless Frogs, Popper flies, Cluster Minnows, and Woolly Buggers.
16. Heron Lake
Located in Rio Arriba County, southwestern New Mexico, United States.
Spacious with Kokanee salmon and lake trout, requires fishing from a kayak or canoe.
Effective fly patterns include streamers and nymphs.
When is the optimal time for fly fishing in New Mexico?
The best time to fly fish in New Mexico depends on the season, as each one provides different opportunities to catch various trout species. Here is a breakdown of each season's optimal fishing spots:
Spring (March to May): San Juan River is the top spot for trout fishing due to its good hatches and prevalence of midges and baetis. Costilla Creek also offers great fishing for challenging native species. The Red River can be more challenging due to runoff, but it still yields rainbow, cutthroat, and brown trout in its lower section.
Summer (June to August): Rio Grande is the best river to fish for rainbow, brown, and cutthroat trout in comfortable weather. Pecos River also offers excellent fly fishing opportunities for rainbow and brown trout. Eagle Nest Lake is a prime spot for Kokanee salmon and trout.
Fall (September to November): Rio Chama is best for catching large brown trout, while Cimarron River provides excellent dry fly opportunities for brown trout due to hatching caddisflies, mayflies, and stoneflies. Heron Lake offers great fishing for Kokanee salmon and lake trout.
Winter (December to February): San Juan River is fishable year-round, with winter being a productive time for catching trout with midges and small nymphs. The Red River can also be productive with small nymphs and midges. Fenton Lake is accessible for fly fishing for rainbow trout during the winter.
What fish species can you catch in New Mexico using fly fishing?
If you enjoy fly fishing in New Mexico, you'll have plenty of options for catching fish species. Rainbow trout, brown trout, Rio Grande cutthroat trout, Gila trout, and brook trout are all common catches in the state's high mountain streams and rivers. Smallmouth bass, sunfish, and catfish can also be caught in various lakes.
What are the regulations for fly fishing in New Mexico?
To fly fish in New Mexico, you must follow certain regulations, which are as follows:
You need a valid New Mexico Fishing License or Game-hunting & Fishing License if you are aged 12 or older, valid from April 1 to March 31. Tribal reservations and Class-A lakes are exempt from license requirements.
Residents and non-residents aged 11 and under do not need licenses.
Junior and Senior Fishing Licenses are available for specific age groups.
Habitat Management & Access Validation (HMAV) is required annually, except for anglers aged 17 and under or with free fishing licenses. It is added with the first fishing, hunting, or trapping license purchase.
If you're fishing on certain lands, you need a Habitat Stamp, valid for a license year (April 1–March 31), if you are aged 12 or older.
You need a Second Rod Validation if you're using two rods. Not needed with free fishing licenses. All other regulations, like bag and possession limits, apply.
You need a Gila Trout Fishing Permit if you're fishing in specific locations. The permit is free and must be obtained before fishing certain waters.
A federal excise tax supports state efforts to enhance sport fisheries, including habitat improvement and stocking programs, through the Sport Fish Restoration Act.
Different waters have specific rules, such as fishing hours, motorized boat restrictions, bag limits, and seasonal restrictions, which are covered under Game Fish Regulations.
Some waters are reserved for youth, seniors, and disabled anglers, offering special fishing opportunities. These are: Harris Pond (Las Vegas), Shuree Kid's Pond (the Valle Vidal), Seven Springs Hatchery Brood Pond (Jemez Mountains), and Roswell Kids Pond (Spring River Park).
The possession limit for each species is twice the daily bag limit.
Note: New Mexico fishing regulations may change at any time. So, always check for updates and adhere to current guidelines.