Key Takeaways:
Arkansas offers exceptional fly fishing opportunities with various rivers, streams, and ponds to explore.
The top fly fishing spots in Arkansas include the White River, Little Red River, Norfork River, Spring River, and Crooked Creek, among others.
The ideal time to fly fish in Arkansas varies by season, with winter being great for catching brown trout and fall ideal for low water and excellent trout fishing.
You can target various fish species through fly fishing, such as Brown Trout, Rainbow Trout, Brook Trout, Cutthroat Trout, Smallmouth Bass, Catfish, and various panfish species.
Before fly fishing in Arkansas, familiarize yourself with the fishing regulations set by the Arkansas Game and Fish Commission, including fishing license requirements and specific fishing limits for different species.
List Arkansas's 11 Best Fly Fishing Spots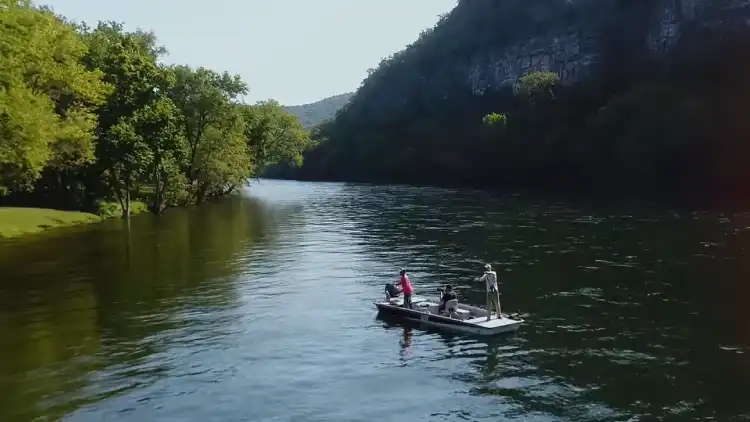 In Arkansas, you can experience amazing fly fishing opportunities in the following locations:
White River
Little Red River
Norfork River
Spring River
Crooked Creek
Dry Creek
Lake Greeson
Ouachita River
The Beaver Dam
Caddo River
Macarthur Park Pond
Let's explore each fly fishing location in more detail.
1. White River
Located in northwest Arkansas, the White River's tailwaters start below Bull Shoals Dam, with its source in the Boston Mountains of the Ozark-St. Francis National Forest southeast of Fayetteville.
Regulated water levels and temperature create an ideal environment for fly fishing.
Offers excellent opportunities to catch brown trout up to 20 inches. Boats are required to access the river.
2. Little Red River
This 102-mile-long river is located below Greers Ferry Dam, flowing through White, Van Buren, Searcy, Stone, and Cleburne counties of north-central Arkansas.
Highly oxygenated, protein-rich water from the fish hatchery makes the trout grow fast and thick. Good power generation understanding is essential for wading fly fishers.
Offers opportunities for fishing with midges, wooly buggers, and San Juan worms.
3. North Fork River
It is a tributary of the White River, flowing near Norfork, Arkansas, and running through several counties in north-central Arkansas.
Optimal cold water flow (47 to 54 degrees) supports four different trout species: brown, rainbows, brook, and cutthroat.
Boat fishing is preferred, offering opportunities for streamer fishing and nymphing with scuds and dark midges.
4. Spring River
The Spring River begins in Howell County, Missouri, and flows south through Fulton and Sharp counties in Arkansas.
A great backup location with less influence from rain and high water. Suitable for dry fly fishing and dead drifting nymphs.
Scuds and Pheasant Tail Nymphs are productive fly choices.
5. Crooked Creek
The Crooked Creek flows through Newton, Boone, and Marion counties in north Arkansas.
Excellent for smallmouth bass fishing between March and October, with peak activity in 55 to 58-degree water.
Accessible at Kelly's Slab Access with wading and drifting options.
6. Dry Creek
Originates from cold water springs alongside the Norfolk National Hatchery.
Ideal for taking children and providing an intimate river experience with short casting opportunities.
Great for sight fishing to trophies with undercut banks.
7. Lake Greeson
It is located about 6 miles north of Murfreesboro, Arkansas, on the Little Missouri River.
Heavily stocked rainbow trout; streamer fishing for brown trout is gaining popularity. Good public access for wading and drift fishing.
8. Ouachita River
This river flows through both the U.S. states of Arkansas and Louisiana, eventually converging with the Tensas River to form the Black River near Jonesville, Louisiana.
With its impressive 605-mile length, the Ouachita River provides diverse fishing opportunities and a memorable fly fishing experience. Trout are stocked from November to April.
Boat and wading options are available. Also great for summer smallmouth bass fishing.
9. The Beaver Dam
Located in the Northwest corner of Arkansas on the White River at mile 609, Beaver Dam spans through Benton, Washington, Carroll, and Madison counties.
Heavily stocked rainbow trout and increasing popularity for streamer fishing for brown trout.
Both novice and experienced anglers can enjoy fly fishing at The Beaver Dam, with its picturesque surroundings and easy public access.
10. Caddo River
This river flows through Montgomery, Pike, and Clark counties in Arkansas.
Combines smallmouth bass casting with family float trips.
Canoes can be rented, and poppers in whites and reds with rubber legs are recommended for smallmouth bass.
11. Macarthur Park Pond
Located in Little Rock, Arkansas.
Stocked with trout and catfish, ideal for a quick evening fly fishing getaway.
Clear shorelines aid backcasting, and deep water allows for good fly presentation.
When is the optimal time for fly fishing in Arkansas?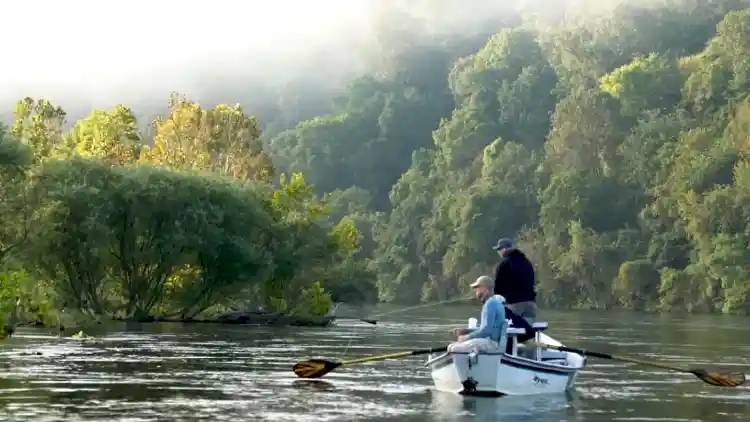 The best time to fly fish in Arkansas varies based on the season. Here's a breakdown of when you should plan your trip, depending on what you're looking for:
Winter (December – March): This is the time to go if you want to catch brown trout. The high water output from Bull Shoals Dam causes a shad kill, which creates a feeding frenzy among brown trout. Throwing streamers is the way to go.
Spring (April – June): The White and Norfork Rivers are great for experiencing hatches, and the caddis hatch in May is particularly fruitful. If you're interested in smallmouth bass fishing, the Kings River season kicks off in April.
Fall (October – November): If you're looking for low water and great trout fishing on tailwaters, fall is the best time to go. This is when brown trout move to spawn, resulting in stellar fishing. It's also a good time for families, beginners, and anyone who wants to enjoy the scenic water.
What fish species can you catch in Arkansas through fly fishing?
Using fly fishing techniques, you can catch various fish species in the Arkansas fly fishing spots. Some of the most popular species you can target include Brown Trout, Rainbow Trout, Brook Trout, and Cutthroat Trout, all native to the state's rivers and streams.
Smallmouth bass is another species that you can catch through fly fishing, particularly in the Ozarks region. Also, Arkansas is home to numerous catfish and panfish species that can also be caught using fly fishing, including Bluegill, Crappie, and Channel Catfish.
What Are the Fly Fishing Regulations In Arkansas?
Arkansas Game and Fish Commission (AGFC) sets and enforces fishing regulations. The following are the regulations for fishing categories.
Fishing License: If you're 16 or older, you need a valid fishing license to fish for game species in Arkansas, except in licensed "put-and-take" pay lakes.
Residency: To qualify for a resident license, you must physically inhabit a bona fide residence in Arkansas for at least 60 days and declare yourself a full-time resident. Owning Arkansas real estate outside the state does not count as residency.
Specific Fishing Limits: Various game fish have daily limits and length restrictions.
Black Bass (largemouth, spotted, smallmouth combined): Daily limit of 10 fish.
Smallmouth Bass (including hybrids): Daily limit of 4 fish. In the Ozark Zone, the length limit is 12 inches; in other areas, it's 10 inches.
Rock Bass (Ozark and shadow bass): Daily limit of 10 fish.
Bream (bluegill, redear, longear, warmouth, and other sunfishes combined): Daily limit of 50 fish. No daily limit on bream shorter than 4 inches.
Catfish (channel, blue, flathead combined): Daily limit of 10 fish. No daily limit on bullhead catfish.
Crappie (black and white combined): Daily limit of 30 fish.
Paddlefish: Daily limit of 2 fish.
Sauger: Daily limit of 6 fish.
Saugeye: Daily limit of 6 fish.
Shovelnose Sturgeon: No limit, but the length must be 21 inches or longer. All sturgeon caught between the levees of the Mississippi River must be released immediately.
Striped Bass and Hybrid Striped Bass: Daily limit of 6 fish combined.
Trout (brown, cutthroat, brook): Daily limit of 5 fish, max 2 of each species (brown, cutthroat, and brook trout) in the total limit.
Walleye: Daily limit of 6 fish.
White Bass: Daily limit of 25 fish. The possession limit is triple the daily limit.
Fishing rules in Arkansas can change, so check the latest Arkansas Game and Fish Commission regulations before your trip. Stay up-to-date.