Key Takeaways:
Montana boasts some of the best fly fishing opportunities in the country for trout fishing enthusiasts.
With prime fly fishing seasons from spring to fall, different rivers offer their best catch at specific times throughout the year.
You can easily catch a variety of trout species, including rainbow, brown, cutthroat, and west slope cutthroat trout.
Maintaining Montana's fishing regulations is critical to protecting natural habitats and maintaining healthy fish populations.
Iconic rivers like the Gallatin, Madison, and Yellowstone offer more than just prime fishing. Spectacular backdrops and scenery add to the fishing experience.
Montana's alpine lakes and remote fishing locations provide unbeatable opportunities for those seeking a more rugged fly fishing adventure.
Here Are Montana's 19 Best Fly Fishing Spots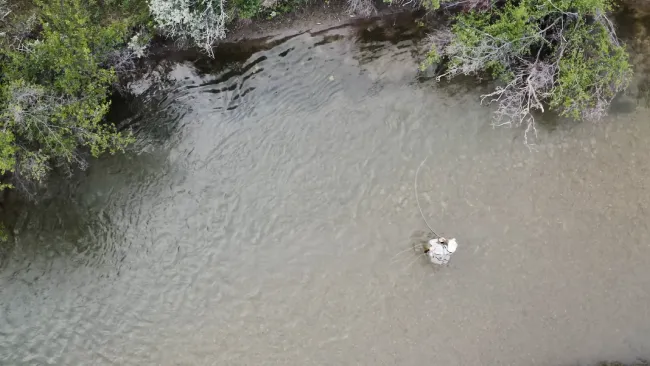 Montana offers some of the best fly fishing spots in the country. Here are the top 19 places for you to cast your line:
Gallatin River
Madison River
Missouri River
Yellowstone River
Blackfoot River
Big Hole River
Clark Fork River
Bitterroot River
Rock Creek
DePuy Creek
Nelson Creek
Bighorn River
Sun River
Smith River
Fly Fishing High Alpine Lakes
Beaverhead River
Jefferson River
Ruby River
South Fork of the Flathead River
Let's take a closer look at these popular fly fishing hot spots in Montana.
No 01: Gallatin River
Located in Wyoming and Montana, the Gallatin River is a tributary of the Missouri River that is approximately 120 miles long.
Fly fishing is popular on this river, especially the 40-mile stretch immortalized in "A River Runs Through It."
In some areas, the Gallatin River allows for wade fishing, providing diverse fishing opportunities that cater to different preferences.
No 02: Madison River
Within Yellowstone National Park, this river stretches over 20 miles. The Madison River flows into the Missouri River and is 183 miles long and runs through Wyoming and Montana.
Anglers come from far and wide to experience the intense scenic beauty and the famous "50-mile riffle" section, ideal for Wade and float fishing.
With abundant access points, the Madison River is a popular destination for fly fishing enthusiasts.
No 03: Missouri River
The longest river in the United States begins in the Rocky Mountains of southwestern Montana and flows for 2,341 miles before entering the Mississippi River north of St. Louis, Missouri.
Easily accessible from Craig, Montana, the Missouri River offers diverse trout fishing experiences that will surely please fly fishing enthusiasts.
The river's length provides ample exploration and fishing possibilities to entertain you for days.
No 04: Yellowstone River
It is a tributary of the Missouri River and runs for approximately 692 miles in the Western United States.
The Paradise Valley area of the Yellowstone River is known for its prime fly-fishing conditions that offer a chance to reel in some impressive catches.
Some restrictions apply within Yellowstone National Park, so follow all the regulations to ensure a successful and enjoyable fly fishing trip.
No 05: Blackfoot River
In western Montana, this snow- and spring-fed river runs 130 miles from the Continental Divide to the Clark Fork River.
Made famous by "A River Runs Through It," the signature section of the Blackfoot River is popular for its rainbow trout, making it a fly fishing hotspot.
With diverse landscapes and fishing techniques, the Blackfoot River caters to different preferences and provides an enjoyable fishing experience.
No 06: Big Hole River
The Big Hole River originates in the Bitterroot Mountains and flows through the picturesque Big Hole Valley. It is a tributary of the Jefferson River, approximately 153 miles long, located in southwestern Montana.
With its 150 miles of postcard Montana fly fishing, the Big Hole River offers varied landscapes and fishing opportunities for different trout species and fly fishing techniques.
A visit to the Big Hole River will surely be a memorable experience for fly fishing enthusiasts.
No 07: Clark Fork River
From Butte to the Idaho border, this river runs along Interstate 90. It is a tributary of the Columbia River that spans approximately 310 miles in Montana and Idaho.
The largest river by volume in Montana, the Clark Fork River's abundant trout population is a testament to the massive cleanup efforts to preserve the river. It offers rewarding fishing experiences that are sure to please anglers.
The upper and lower sections of the river provide different fishing opportunities to explore and enjoy.
No 08: Bitterroot River
Surrounded by the Bitterroot Mountains to the west and the Sapphires to the east. The Bitterroot River is a northward-flowing 84-mile river that spans the Bitterroot Valley from Ravalli County to Missoula County in western Montana.
Early season fishing with a spring Skwala hatch is abundant in rainbow trout, making the Bitterroot River a popular destination. Fishing remains good throughout summer and fall, providing ample opportunities to catch impressive trout.
With a rich and varied fishing experience, the Bitterroot River is a must-visit spot for fly fishing enthusiasts.
No 09: Rock Creek
A tributary of the Clark Fork River, this 52-mile river flows through Missoula and Granite County, Montana. It is less than 30 minutes from Missoula, providing easy access for fly fishing enthusiasts.
Rock Creek offers some of Montana's most impressive Wade fishing opportunities, with notable salmon fly and Golden Stone hatches in June. This is an excellent spot for fly fishing enthusiasts who love to wade.
Its proximity to Missoula makes it a convenient choice for a day of fly fishing.
No 10: DePuy Creek
Located in Paradise Valley, about 1.5 miles above the property line between the O'Hair and DePuy family ranches.
This spring creek constantly flows cold water, resulting in larger trout sizes perfect for a small to medium-sized fishery.
Its rich population of aquatic insects provides ample feeding opportunities for trout.
No 11: Nelson Creek
A 45-mile drive along Montana Highway 24 and a 7-mile walk along County Road leads to Nelson Creek Campground, 49 miles south of Fort Peck.
This is one of the smallest spring creeks in Paradise Valley, but it offers challenging fishing conditions with crystal clear flats and exciting fights when hooked.
Be sure to bring long leaders and light tippets to increase your chances of success.
No 12: Bighorn River
Located in Wyoming and Montana in the western U.S., the Bighorn River follows the Yellowstone River for about 461 miles.
Known for its 16-inch rainbow and brown trout, the Bighorn River is one of the best trout streams in the country and is popular for float fishing.
With low water levels, you can even try wade fishing.
No 13: Sun River
Located at the intersection of U.S. Route 89 and Montana Highway 200, the Sun River is about 23 miles from Great Falls.
Its challenging access and limited fishing pressure make it perfect for anglers seeking solitude and pristine environments, offering rainbow, cutthroat, and brown trout.
Prepare for a truly immersive fishing experience in this area's rugged beauty.
No 14: Smith River
It rises in southern Meagher County in the Castle Mountains and flows northwest between central Montana's Big Belt and Little Belt mountains.
The 60-mile section downstream from Camp Baker is iconic, boasting sizable brown and rainbow trout alongside magnificent Montana landscapes and fast-striking fish.
Permits are required to float between public access points to regulate fishing pressure, so plan accordingly.
No 15: Fly Fishing High Alpine Lakes
In the Absaroka-Beartooth Wilderness, this location is known for its high alpine lakes.
With stillwater fishing, you can enjoy mountain views and varying fishing conditions throughout the year. Plus, hiking may be required to access some lakes, providing additional adventure.
This location is like no other, offering a unique and breathtaking experience that you'll never forget.
No 16: Beaverhead River
Considered an irrigation ditch, you'll find big browns and rainbows near Dillon, MT, in the Beaverhead River, which is an approximately 69-mile-long tributary of the Jefferson River.
The August streamer fishing on this tailwater is excellent. While it is known for its productive nymph and dry fly fishing, this tailwater also offers excellent fishing on streamers.
Whether a beginner or an experienced angler, you'll surely have a great time in this location.
No 17: Jefferson River
Not as well-known as other headwater rivers, the Jefferson River flows to the Missouri River and is approximately 83 miles long in the U.S. state of Montana.
Good fishing in the spring and fall with Drake and BWO hatches make this location stand out.
Despite a less-than-stellar past due to dewatering for irrigation in summers, the Jefferson River is still a worthy spot for fly fishing enthusiasts.
No 18: Ruby River
Similar to the Beaverhead below Ruby Dam, the Ruby River is approximately 76 mi long and flows mostly through ranch lands. It's a tributary of the Beaverhead River in southwestern Montana.
Known for productive grasshopper fishing, this location is loaded with fish and offers a wade fisherman's paradise with ample opportunities to target trout.
With breathtaking scenery and a tranquil atmosphere, you'll truly be able to escape from it all and enjoy your time on the Ruby River.
No 19: South Fork of the Flathead River
In Northwestern Montana, the South Fork Flathead River flows nearly 98 miles and is one of three main forks of the Flathead River.
This pristine river is filled with genetically pure West Slope cutthroat trout, offering a unique and protected fishing experience with a focus on conservation.
With crystal clear waters and jaw-dropping views, you'll appreciate the beauty of nature and the art of fly fishing in this location like never before.
What is the best time to fly fishing in Montana?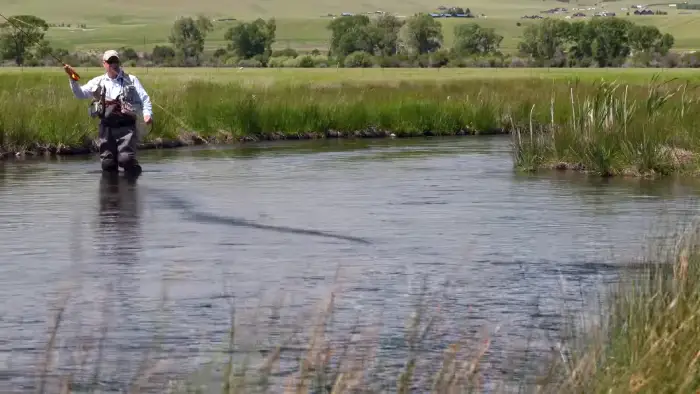 Montana is renowned for its fly fishing opportunities, with anglers flocking worldwide to fish its pristine waters. Knowing about the best fishing season in Montana will help you plan a successful and fulfilling trip. Here's what you need to know:
Currently, it is a great time to fish the Gallatin River, Madison River, Yellowstone River, and Bitterroot River. Early season fishing brings the Skwala hatch, making it the perfect time to try out new flies and techniques.
You'll also have the opportunity to witness some breathtaking scenery, with snow-capped mountains serving as the backdrop.
Summer (July to September)
As the weather heats up, the Missouri River becomes a hot spot for anglers, with the 30- to 40-mile stretch below Holter Dam being particularly productive. The Madison River is another excellent option, providing great fishing throughout the summer in its "50-mile riffle" section.
The Blackfoot River is a popular choice for rainbow trout, while the Big Hole River offers a variety of landscapes and techniques. There are 16-inch rainbow and brown trout in the Bighorn River downstream from Yellowtail Afterbay Dam.
Rock Creek is a must-visit for Wade fishing near Missoula, featuring June salmon fly and Golden Stone hatches.
Fall (September to November)
Bitterroot River fishing remains good for rainbow trout. Smith River, an iconic 60-mile downstream of Camp Baker, offers large brown and rainbow trout.
The South Fork of the Flathead River is a secluded river home to genetically pure west slope cutthroat trout, making it an excellent spot for a peaceful and fulfilling fishing trip.
Year-round (depending on conditions)
Depuy Creek, a spring creek that maintains its cold water flow throughout the year, allows anglers to fish for trout even during the coldest months. Nelson Creek is a challenging spot with crystal clear flats and exciting trout fights.
Which fish species can be caught in Montana using fly fishing?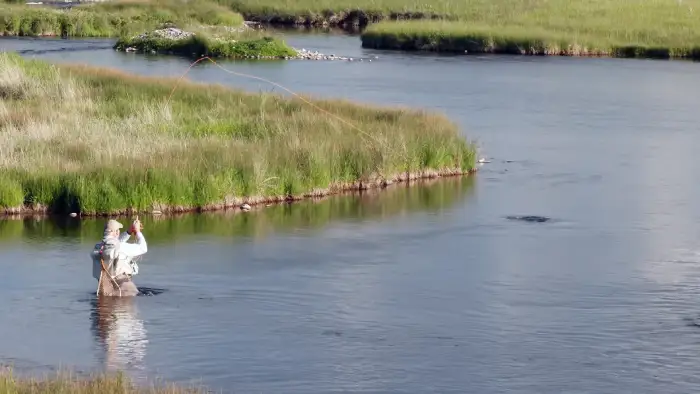 Several fish species can be targeted when fly fishing in Montana. Here are some of the most popular ones:
Rainbow Trout are abundant in Montana's rivers and streams. They are known for their acrobatic jumps and aggressive strikes, making them a favorite among fly fishers.
Brown trout are another prized species in Montana. They are known for their elusive nature and can grow to impressive sizes in some of the state's waters. Fly fishing for brown trout can be challenging but rewarding.
Cutthroat Trout are native to Montana and hold a special place in the hearts of many anglers. Several subspecies of cutthroat trout are found in different state regions, including the Westslope Cutthroat Trout, native to western Montana.
Brook Trout, or brookies, is a smaller but beautiful species commonly found in Montana's coldwater streams. They can be easily caught using dry flies or nymphs, making them a great option for beginners.
Mountain Whitefish are a native species often found alongside trout in Montana's rivers. They offer good sport and can be caught on fly gear. Fly fishing for mountain whitefish can also be a great way to hone your nymphing skills.
What are the fly fishing regulations in Montana?
Regarding fly fishing in Montana, there are regulations and guidelines that anglers need to be aware of to ensure they are fishing legally and sustainably. Access sites along various rivers and streams are used to access the water for fishing purposes legally.
The Montana FWP or other relevant authorities often mark and manage these access sites. Check the Montana FWP website or local fishing regulations for each species' open and closed seasons. Here are the fly fishing regulations in Montana:
Obtain a valid fishing license before engaging in any fishing activities, including fly fishing. Licenses may vary based on residency status and duration (e.g., resident, non-resident, daily, season).
Practice catch and release for certain fish species in certain areas to preserve the fish population and support sustainable fishing practices.
Be aware of bag limits, which refer to the maximum number of fish an angler can keep and possess in a single day or during a specific period. Bag limits can vary by species, location, and time of year, so it's crucial to know the specific regulations for each area.
Take note of special regulations to protect sensitive habitats or unique fish populations. These regulations may include restricted fishing methods, gear limitations, or specific catch limits.
Clean and dry gear thoroughly before moving between different fishing locations to avoid transporting invasive species. Montana has strict regulations in place to prevent the spread of invasive species in its waters.