Key Takeaways:
Virginia offers diverse top-notch fly fishing spots, including rivers like New River, Rapidan River, and Jackson River, and lakes such as Lake Anna and Lake Moomaw.
The best time to fly fish in Virginia varies depending on the species targeted. March to April is excellent for mountain brookies, while May to June is the peak season for trout and bass. July to October provides good opportunities for both bass and trout.
Fly fishermen can expect to catch a variety of fish in Virginia, including brook trout, rainbow trout, smallmouth bass, largemouth bass, brown trout, musky, catfish, panfish, walleye, and crappie.
Fly fishing regulations in Virginia are managed by the Department of Wildlife Resources. Anglers must have a fishing license, and there are specific rules for trout fishing, including special regulation waters and catch-and-release areas.
Before planning a fly fishing trip in Virginia, anglers should be aware of specific regulations and any changes to fishing rules. It's essential to check with official sources or local authorities to ensure compliance with the latest fishing guidelines.
A List of Virginia's Top 12 Fly Fishing Spots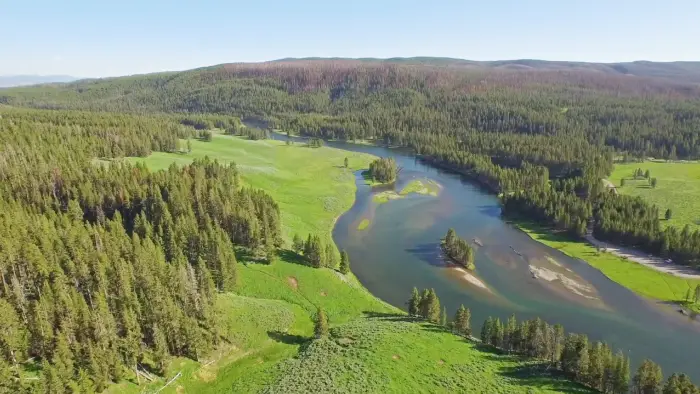 There are many outstanding fly fishing spots in Virginia. Among the most highly rated spots are:
New River
Rapidan River
Jackson River (Tailwater)
Shenandoah River
Mossy Creek
Lake Anna
Lake Moomaw
Laurel Bed Lake
Buggs Island Lake (John H. Kerr Reservoir)
Accotink Creek
Lake Brittle
Holmes Run
Let's discuss each location so you'll know what to expect.
1. New River
Flows through North Carolina, Virginia, and West Virginia, joining with the Gauley River in West Virginia.
Excellent fly fishing for smallmouth bass, considered one of the best in the country. Also home to other species like catfish and musky.
One of the oldest rivers in the world, offering beautiful scenery and a variety of fishing opportunities.
2. Rapidan River
Flows 88 miles through north-central Virginia, the largest tributary of the Rappahannock River.
Pristine native brook trout river, known for the Mr. Rapidan fly. Also hosts bass, catfish, and panfish in lower sections.
Some parts are easily accessible, while others may require permission and a four-wheeler.
3. Jackson River (Tailwater)
Rises in Highland County, Virginia, flowing south through Bath County.
Best wild trout stream in the state, known for large rainbow and brown trout.
Located in the western mountains, it offers great spring fishing with streamers and hatches.
4. Shenandoah River
Principal tributary of the Potomac River, flows through Virginia and West Virginia.
Scenic river with opportunities to catch both smallmouth and largemouth bass.
Beautiful meandering river, good for poppers in the morning and evening, while streamers and crawfish are effective during the day.
5. Mossy Creek
Located in the Valley in the western part of the state.
Spring-fed river with excellent dry fly fishing during hatches and ideal for terrestrials in the summer.
Contains stocked trout and maintains excellent conditions year-round.
6. Lake Anna
One of the largest freshwater inland reservoirs in Virginia, located in Louisa and Spotsylvania counties.
Largemouth bass fishing year-round, with warm waters allowing bass to stay active.
Numerous docks for access, poppers work well in the mornings and evenings, and crawfish patterns during cooler months.
7. Lake Moomaw
Located along the West Virginia State Line within the George Washington and Jefferson National Forest.
Deep enough for trout survival during hot summers, offering bass, panfish, and trout fishing.
Fishing slows down during winter, best during spring, summer, and fall.
8. Laurel Bed Lake
A Department-owned lake located in Russell County on the Clinch Mountain Wildlife Management Area.
Stocked with trout in the fall, offering excellent trout fishing from fall to June.
Good opportunities for using streamers and subsurface flies for trout.
9. Buggs Island Lake (John H. Kerr Reservoir)
It is situated on the border of North Carolina, mainly in Mecklenburg County.
One of the best largemouth bass fisheries in the country, also good for panfish and crappie.
Easily accessible with many public fishing areas and boat docks.
10. Accotink Creek
It is located in Fairfax County, Virginia, flowing into the Potomac River.
Ideal for catching brown and rainbow trout, stocked twice a year.
Accessible near Annandale, great for half-day or full-day fishing trips.
11. Lake Brittle
Situated east of Warrenton, thirty miles from the Beltway.
Home to walleye, largemouth bass, and sunfish, offers a lake fishing experience.
Open season from May to November, less crowded on weekdays.
12. Holmes Run
A stream in the Cameron Run Watershed in Northern Virginia, running through Fairfax County and the City of Alexandria.
Small, scenic, and quiet creek with stocked rainbow trout makes this place special
Open year-round for fishing, providing a tranquil escape in the busy suburbs.
When is the optimal time for fly fishing in Virginia?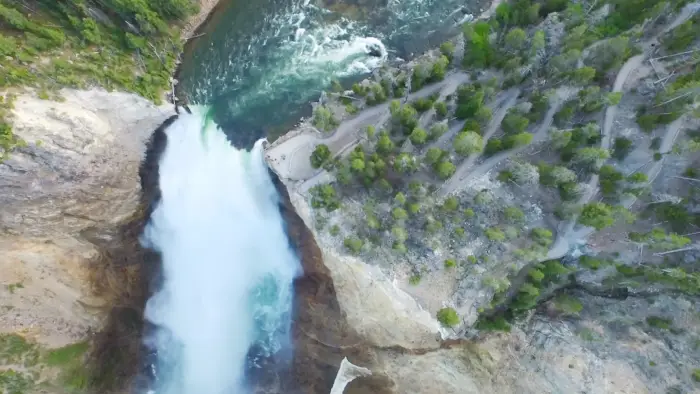 In Virginia, the best time to fly fish depends on the specific type of fish being targeted and the time of year. Following is a list of the best times to fly fish in Virginia:
March/April: Mountain brookie fishing is hot, making it an excellent time for fly fishermen to target this specific species.
May/June: Trout and bass are actively feeding, and midday to afternoon hours have a productive hatch. This period can be considered the peak fly fishing season for trout and bass.
July/August: Early July is still good for fly fishing, but mornings and evenings become more productive as temperatures rise. Terrestrials work well for trout during this period.
September/October: This is an excellent time for fly fishing, as both bass and trout are active before entering winter dormancy.
What types of fish can be caught in Virginia through fly fishing?
You can catch a lot of different fish in Virginia. The following are the types of fish you can catch while fly fishing in Virginia:
Brook trout: These fish are native to mountain streams in Virginia and can be caught through fly fishing. They can also be stocked in some areas, providing additional opportunities for anglers.
Rainbow trout: You can find these fish in spring creeks and tailwaters, with both wild and stocked options available for fly fishermen.
Smallmouth bass: These fish are abundant in the New River, James River, and Shenandoah River, making them a popular choice for fly fishing enthusiasts.
Largemouth bass: Like smallmouth bass, largemouth bass are found in the Shenandoah River, Lake Anna, and Buggs Island Lake. You can catch them through fly fishing in these areas.
Brown trout: Tailwaters like the Jackson River provide ample opportunities for catching brown trout through fly fishing.
Musky: Found in the New River, musky can be challenging to catch through fly fishing. However, if you are up for the challenge, this fish can make for a great catch.
Catfish: Various rivers and lakes in Virginia are home to catfish, which can also be caught through fly fishing.
Panfish: Lakes and ponds across Virginia are abundant in panfish and can be caught through fly fishing.
Walleye: Lake Anna is home to walleye, which can be caught through fly fishing.
Crappie: Lastly, Buggs Island Lake is a great place to catch crappie through fly fishing, making it another great option for anglers.
What are the regulations for fly fishing in Virginia?
Fishing rules and regulations in Virginia are governed by the Virginia Department of Wildlife Resources (DWR). The following are some rules that you should be aware of.
Fishing License: Every person must carry a fishing license and show it upon request. Residency qualifications include bonafide residency for six consecutive months, legal voters in Virginia, and members of the armed forces stationed in the Commonwealth.
Exceptions: Some individuals, such as landowners, residents under 16, active-duty military, and legally blind persons, do not need a license to fish on their property or other specific areas.
Lifetime Licenses: Virginia residents and non-residents under 2 years old can obtain a Legacy Lifetime license. Regular Lifetime licenses are available for residents and non-residents. Senior Combo Lifetime licenses are for residents 80 years and older, and Resident Service-Connected Disability Veteran Lifetime licenses are available for disabled veterans.
Tidal Boat License: Available for boat owners, resident or nonresident, allowing fishing in both saltwater and freshwater within Virginia, including passengers on board when the owner is present.
National Forest Permit: Required for fishing on National Forest lands, except for specific exempted areas.
State Forest Use Permit: Required for certain activities like hunting, fishing, mountain biking, and horse riding in state forests, but not for walking, hiking, or boating.
Access Permit: Needed for using DWR-owned or managed facilities or boating access sites, except for those with valid hunting, freshwater fishing, or trapping licenses or those under 17.
Replacement License: Licenses can be reprinted online or obtained from a retail license agent if lost.
Trout Season and Limits: Virginia's trout season is open year-round. General statewide trout limits are 6 trout per day, no fish less than 7 inches. However, specific exceptions exist in various areas, including special regulation waters, providing anglers opportunities to catch more and larger trout.
Special Regulation Trout Waters: Certain streams have special regulations like size limits, creel limits, and restrictions on bait usage. Examples include Jackson River Tailwater, Lake Moomaw, and Smith River.
Catch and Release Only: Some areas, like Roaring Fork and South River, have catch and release regulations, allowing fishing but requiring immediate release of caught fish.
Fly Fishing Only: Certain sections of streams, like Mossy Creek and South River, have regulations allowing only fly fishing.
But fishing regulations by DWR can change over time. Please stay updated on any revisions or new Virginia fly fishing rules. Check official sources or local authorities for the latest information before fishing.