Key Takeaways:
Michigan offers a wealth of enchanting fly fishing spots, including rivers like Au Sable, Manistee, and Pere Marquette, and Lake Michigan.
The optimal time for fly fishing varies by season, with April to June ideal for trout and steelhead, July to August for summer fishing, and fall for salmon and steelhead runs.
Fly fishing in Michigan provides opportunities to catch a variety of species, including brown trout, brook trout, rainbow trout, steelhead, salmon, largemouth bass, smallmouth bass, pike, and muskie.
Anglers must comply with Michigan's fishing regulations, including obtaining fishing licenses, adhering to specific regulations for trout streams, and following guidelines to prevent the spread of invasive species.
Michigan's DNR's Master Angler Program allows anglers to receive recognition for catching fish that meet size criteria, and staying updated on the latest regulations is crucial to ensure compliance each season.
Michigan's Top 18 Fly Fishing Spots List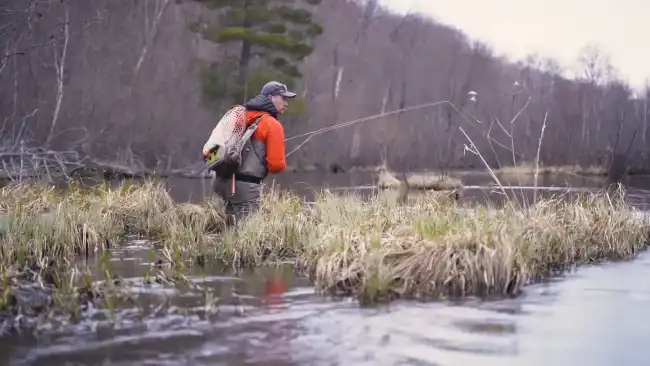 Michigan is home to many incredible fly fishing spots. The following is a list of the locations:
Au Sable River System
North Branch of AU Sable
Manistee River System
Pere Marquette River
Jordan River
White River
Boardman River
Dowagiac River
Huron River
Rifle River
Fox River
Black River
Muskegon River
Platte River
St. Joseph River
Whitefish River
Betsie River
Lake Michigan
Let's take a look at these amazing fly fishing spots in detail.
1. Au Sable River System
Au Sable River in Michigan, United States, runs 138 miles through the northern Lower Peninsula.
Challenging fishing with stocked trout, the birthplace of Trout Unlimited and Adams Fly.
Comins Flats in Mentor Township is one of the top spots for fly fishing enthusiasts.
2. North Branch of Au Sable
A section of the Au Sable River in northern Michigan where the North Branch rises in Bagley Township, Otsego County, near Lake Otsego.
Ideal for wading and provides an opportunity to explore unique sections with varied characteristics.
Canoe fishing is favored in the North Branch, and some areas have private property, allowing for privacy and an undisturbed fishing experience.
3. Manistee River System
The Manistee River runs through northern Michigan, including the city of Baldwin.
Favorable for wading with log-choked banks, gravel bottoms, and easy accessibility for wading and drift boats.
The CCC Bridge with the campground is a popular destination for anglers seeking a memorable fly fishing experience in Michigan.
4. Pere Marquette River
Located in western Michigan, near the town of Baldwin.
Salmon, steelhead, and brown trout run prolifically in the river, which was stocked with brown trout for the first time in the United States.
The Baldwin area is known for fly fishing, particularly 72nd Street, a popular spot for fly fishing enthusiasts.
5. Jordan River
In Michigan's Lower Peninsula, this river is situated in the northwestern part of the state.
The river's cold flow through cedar forests is home to Brown, Brook, and occasional Rainbow Trout, providing an exciting fly fishing opportunity.
Webster Bridge Access is an ideal starting point for fly fishing enthusiasts, providing ample fishing spots for anglers.
6. White River
The White River is located in west-central Michigan, near the town of White Cloud.
Known for brook and brown trout, the river's headwaters contain brook trout, while the lower reaches have brown trout.
Fishermen can try swinging streamer flies like a muddler, which can produce outstanding results while fly fishing in Michigan's White River.
7. Boardman River
Located in western Kalkaska County, it flows west and north through Grand Traverse County before reaching Grand Traverse Bay in downtown Traverse City.
A classic fly fishing river, the Boardman River has cedar-lined banks and gravel mix throughout that provide an excellent fly fishing experience for any angler.
Above the Brown Bridge Dam offers an ideal stretch of water for fly fishing for brown trout that naturally reproduce in the main river, with brook trout in the feeder creeks.
8. Dowagiac River
The Dowagiac River is a feeder river to the St. Joseph River in southern Michigan, flowing southwesterly for 30.9 miles in the Lower Peninsula of Michigan.
Known for good steelhead run in the spring and resident brown trout, attracted by the abundance of crayfish in the River.
Fly fishermen looking to explore the Dowagiac River would find swinging streamers to be a primary method of fishing and enjoy the excellent fly fishing experience.
9. Huron River
Located in southeastern Michigan, near the town of Wixom, the Huron River stretches for 130 miles and rises out of the Huron Swamp in Springfield Township in northern Oakland County.
Easily accessible, the Huron River supports smallmouth bass, pike, and seasonal trout, providing an excellent opportunity for fly fishing in Michigan.
Parks alongside the Huron River offer good access to fly fishing enthusiasts, and in early spring, stocked trout are available near Wixom.
10. Rifle River
Located in northeastern Michigan, the Rifle River is a northeastward-flowing river that rises in northeastern Ogemaw County and flows through Arenac County, entering Saginaw Bay of Lake Huron.
A cold-water fishery, the Rifle River is best fished by floating in a canoe or pontoon boat, offering anglers a unique fly fishing experience.
Fishermen can try two fly rods while fly fishing in the Rifle
11. Fox River
Located in the Upper Peninsula of Michigan, the Fox River is a 36.5-mile-long river that runs into the Manistique River.
Considered a blue-ribbon trout stream, the Fox River is known for its excellent trout fishing opportunities.
Access to the river is possible via County Road 450, which passes through the state forest. The narrow, deep river is ideal for a small pontoon boat or canoe.
12. Black River
The Black River is a 4.2-mile-long river in the southwest of Michigan that flows into Lake Michigan in South Haven.
It is known for its brook trout fishing opportunities.
The Tin Shanty Road bridge area offers a good section for fly fishing, where fishing with elk hair caddis or parachute Adams flies is recommended.
13. Muskegon River
The Muskegon River flows through western Michigan, in the lower peninsula of Michigan.
Various trout, steelhead, and salmon species are available for fly fishing on the Muskegon River.
Fly fishing enthusiasts can enjoy the spot for steelhead and salmon fishing, along with smallmouth bass and trout. Spey rod fishing is a popular activity for visitors to the Muskegon River.
14. Platte River
The Platte River is located in Michigan's northwest lower peninsula.
This river offers fly fishing opportunities for various species.
Visitors can enjoy the river's scenic beauty while trying their luck at trout and salmon fishing.
15. St. Joseph River
It is a 206-mile tributary of Lake Michigan that flows through southwestern Michigan.
The St. Joseph River is known for its exciting trout and salmon sport fishery.
Fly fishing enthusiasts can also try their hand at catching smallmouth bass and catfish in this river.
16. Whitefish River
The Whitefish River is an 11.9-mile-long river located on the Upper Peninsula of Michigan.
This river is a versatile destination for varied fly fishing experiences, with diverse warm-water species and trout fishing in the upper reaches.
Fly fishing enthusiasts can cast their lines for smallmouth bass, northern pike, walleye, and panfish in the lower sections of the river.
17. Betsie River
The Betsie River is a 54-mile-long river that flows through several counties in northern Michigan.
This river is excellent for salmon and steelhead fishing.
Visitors can also catch brown and brook trout while fly fishing in the Betsie River.
18. Lake Michigan
Lake Michigan is one of the Great Lakes and borders the state of Michigan.
This vast lake provides fishing opportunities for trout, bass, carp, steelhead, and salmon.
Fly fishing enthusiasts can try their luck at shore or boat fishing while enjoying the beautiful scenery of the lake.
When is the optimal time for fly fishing in Michigan?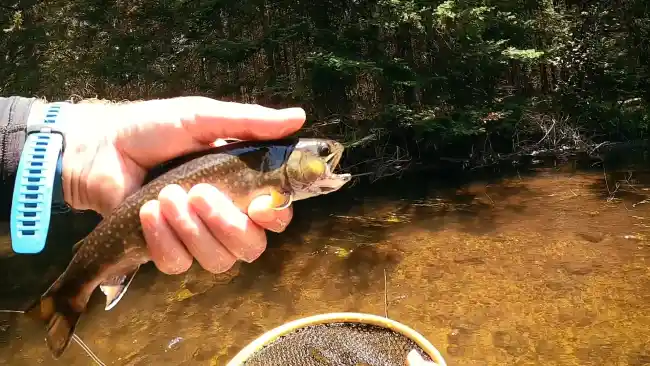 The best time to fly fish in Michigan varies depending on the season. Here are some key points to keep in mind:
April to June: The best places to fish during this time are the Au Sable River System, the North Branch of Au Sable, the Manistee River System, the Pere Marquette River, and the Jordan River.
Trout and steelhead are the main catch, and dry fly fishing is excellent, thanks to mayfly and caddisfly hatches.
July to August: For summer fishing, the Boardman River, Dowagiac River, Huron River, Rifle River, Fox River, and Black River are all good options. Trout are still the main catch, but the best times to fish are early in the morning or late in the evening. Grasshoppers and ants are effective patterns to use.
September to November: In the fall, head to the Muskegon River, Platte River, St. Joseph River, Whitefish River, or Betsie River. This is when salmon and steelhead runs take place, but trout fishing is still possible. Egg patterns and streamers are successful for salmon.
December to March: Some rivers may be ice-covered and inaccessible during this time. However, winter steelhead fishing can be done in the rivers where access is still possible.
Which fish species can you catch with fly fishing in Michigan?
You can catch many fish species through fly fishing in Michigan, including brown trout, brook trout, rainbow trout, and steelhead. These species are abundant in Michigan's numerous waterways and streams, making it a haven for fly fishers.
Michigan is also known for its salmon, smallmouth bass, largemouth bass, pike, and muskie, all of which can be caught with fly fishing techniques.
What are the Governing Regulations for Fly Fishing in Michigan?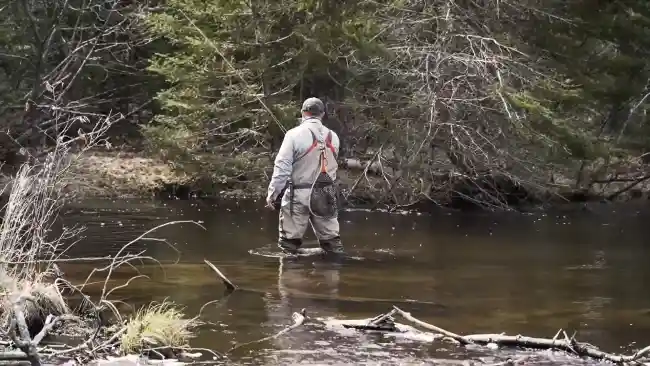 The Michigan fly fishing regulations are as follows:
Fishing License Requirements:
All anglers aged 17 and older must purchase a fishing license.
Michigan offers an electronic license that can be displayed on a smart device.
The annual fishing license is valid from March 1 to March 31 of the following year.
You need a valid Michigan Driver's License or Michigan ID Card to purchase a fishing license.
Residency Qualifications:
To qualify for a resident fishing license, you must reside in Michigan, be a full-time student in Michigan, serve full-time in the U.S. Military in Michigan, or maintain residency in Michigan.
Special Provisions:
Active-duty U.S. military personnel qualify for resident rates.
Fees for full-time, federal, and active-duty military personnel with resident status are waived.
Michigan veterans with disabilities can obtain a free fishing license if they meet specific criteria.
Residents who are legally blind can purchase a senior fishing license.
Developmentally disabled individuals or residents of licensed homes for the aged can fish without a license if accompanied by an adult with a valid fishing license.
Michigan's Trout Streams:
Michigan has several trout streams classified as Type 1, Type 2, Type 3, and Type 4, each with specific regulations.
Regulations vary based on fish species, size limits, and catch-and-release rules.
Baitfish Exclusion Zones:
Certain waters in Michigan are designated as baitfish exclusion zones, where the use and possession of live baitfish are prohibited to prevent invasive species from spreading.
Registration of Fishing Tournaments:
Tournament directors must register fly fishing tournaments through the DNR's Michigan Fishing Tournament Information System.
Tournament results should be reported to the DNR by the specified deadline.
Invasive Species Prevention:
Anglers must clean, drain, and dry fishing gear between waterbodies to prevent the spread of invasive species.
DNR's Master Angler Program:
Anglers can receive recognition for catching fish that meet specific size criteria through the DNR's Master Angler Program.
Anglers can submit their catches to the DNR for consideration in the program.
Walleye Fishing Regulations for the St. Clair System and Lake Erie:
Bag limits for Walleye in St. Clair River, Lake St. Clair, Detroit River, and Lake Erie are 6 fish per day.
Open season for Walleye is all year on these waters.
The size limit for Walleye is 15 inches.
Anglers are allowed to use 3 rods per angler.
Anglers must stay informed about the latest fishing rules and regulations by checking the Michigan DNR website or the official fishing guide for updates. Fishing regulations and limits may change each season.